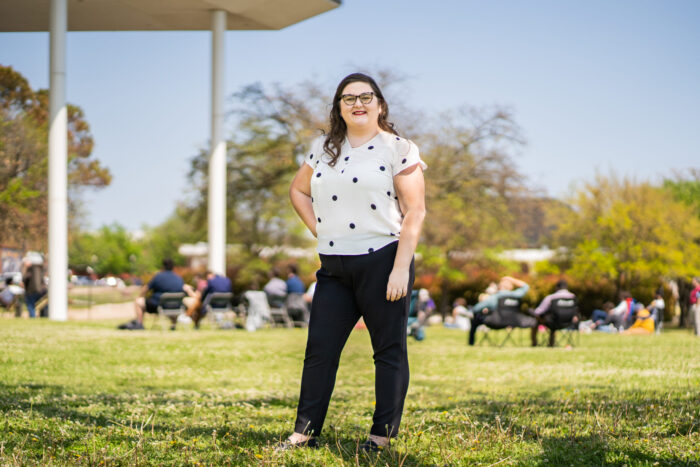 My main goal is for students to walk out of an advising appointment with a new lease on their academics, whether that be through giving resources the university has to offer, guiding them through scheduling or general encouragement as they make tough decisions about their future.
Amanda Scott
Academic Advisor II
College of Humanities, Social Sciences and Arts
As the first in her family to graduate from college, Amanda Scott blazed a trail wherever she went. Graduating as a Regent's Scholar from Texas A&M University-Commerce in 2016 with a degree in Journalism, she later found her way back to the campus she calls home and was hired as an Academic Advisor in 2018. She loves what she does, plain and simple. Scott takes immense joy from helping students find their way toward graduation. She is an avid musician, playing viola in high school and singing in choirs both in high school and at A&M-Commerce. She continues to sing in a local church choir. If you see her without a coffee in her hands, consider that a rare moment. When she's not binging the latest period drama, she enjoys family time with her husband Ryan, and children Myrtle (turtle), Emily (cat) and Arthur (dog). Ask her about her kids, she would love to show you pictures!
How I Can Help You?
"As a member of the Student Success Teams, I can use my knowledge of our programs to help you pick the path that is right for you."
A Conversation with Amanda Scott
What would you tell a student who is thinking about attending A&M-Commerce?
"I would tell them that it is an amazing place to study and grow as a person. We are one big family, no matter what you are studying. You are a lion for life. After graduating, you will recognize the pride that Texas A&M University-Commerce gives its students. Lion graduates are self-sufficient, curious and driven members of a global society."
What do you like most about your career?
"I love being able to see students learn and grow as they progress through their degree. I see their personalities blossom in this exhilarating environment. The trust they have in my guidance is what can set them apart in their academic journey and I take pride in building that trust while we are together in their time as an undergraduate."
How do you help students at A&M-Commerce?
"As an academic advisor, my purpose is to help students be successful in navigating their academic careers. My main goal is for students to walk out of an advising appointment with a new lease on their academics, whether that be through giving resources the university has to offer, guiding them through scheduling or general encouragement as they make tough decisions about their future. Being a successful academic advisor is beyond telling students which classes to take in a semester and reprimanding them for failing a course. Academic advising helps students grow as people. Through their academics, they will reach a higher understanding of the world around them."
Educational Background
BS, Journalism-News Editorial, Texas A&M University-Commerce, 2016
Professional Organizations
Mu Phi Epsilon International Fraternity
National Academic Advising Association (NACADA)
Texas Academic Advising Network (TEXAAN)