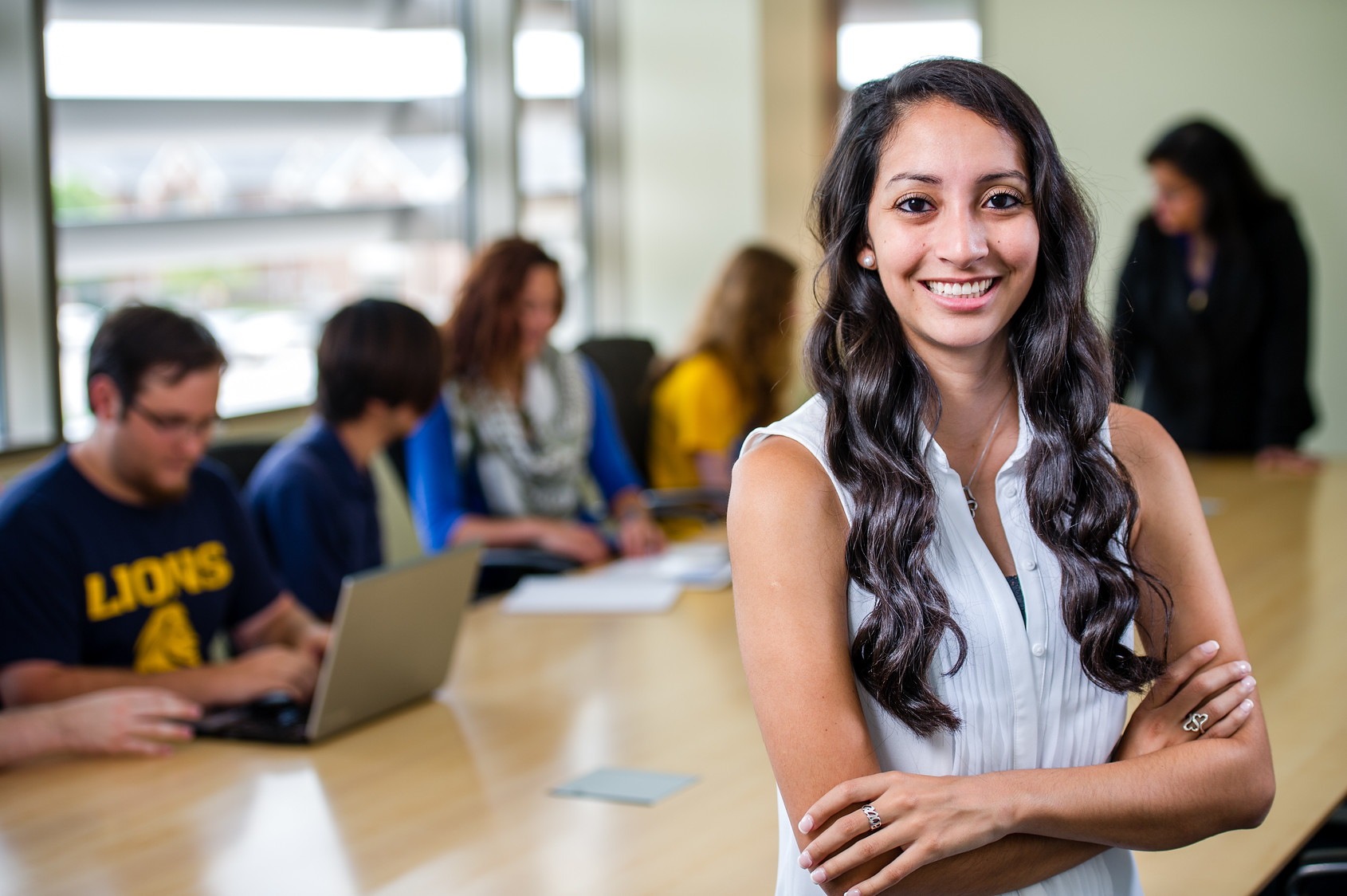 Center for Professional Development
Nurture Your Most Valuable Asset
Discover new skills and sharpen existing ones. The Center for Professional Development has the sole mission of providing the tools you need to master your profession. We accomplish our mission through continuing education courses designed and taught by experts.
Note: All programs are continuing education only, not for college credit.
COURSES AND CERTIFICATES
Take some time to explore our various offerings below. We have programs for teachers, real estate agents, human resources professionals and so much more.
Career Training Courses
These flexible, self-paced career training programs deliver in-demand job training in as little as three months or up to a year. Each course is developed by a team of experts and comes with a dedicated student advisor to support those looking to build workforce skills and prepare for nationally recognized certifications. Topics include business, healthcare, IT, industry certifications and more.
Professional Skill Development Courses
We offer a wide range of short, affordable non-credit online courses for individuals looking to build critical job skills, provide employee training or pursue a new hobby. Two flexible ways to learn. Our instructor-led courses start monthly and allow students to study and interact with a cohort over a six-week schedule. For the independent learner, our self-paced courses provide access to all lessons immediately with up to three months to complete. Topics include business, accounting, soft skills, computer applications, writing and more.
Begin Your Career in Real Estate!
Our new online real estate program is now accepting students for both pre-qualifying and continuing education courses. We have experienced instructors to guide you through the process of gaining the required educational component to sit for the real estate examination and license renewal.
All courses are refundable within five calendar days from date of purchase. After five calendar days, courses are non-refundable.
To purchase an extension for course access, please contact us at 903.886.5089.
To Become a License Holder, We Offer these Pre-Qualifying* Courses
Principles of Real Estate I #121
Principles of Real Estate II #122
Promulgated Contract Forms #351
Real Estate Finance #451
Law of Agency #1151
Law of Contracts #1251
*eBooks included
Physical Textbooks books can be added to your order at time of checkout for an additional cost of $142.11 plus tax and shipping.
TREC Qualifying Provider #8203
For Our License Holders, We Offer the Following Continuing Eduction Courses
Required — Legal Update I 37796 (4 Hours)
Required — Legal Update II 37797 (4 Hours)
Identity Theft: Protecting Your Clients and Your Business 38059 (4 hour Elective)
Environmental Issues in Your Real Estate Practice V5.1 37982 (6 hour Elective)
The Truth About Mold V3.1 40391 (6 hour Elective)
TREC CE Provider #138
TREC Renewal Requirements:
Full Throttle Coaching – Buyers: Be Successful
Full Throttle Coaching – Listings: Where the Real Money Is
Full Throttle Coaching – Ready, Set, Go! The Four Skills You Need to Launch Your Real Estate Career
Full Throttle Coaching – The Great Eight: 8 Things You Must Do to Survive and Thrive in Real Estate
Real Estate Accelerator
30 Minutes That Could Save Your Life
2017: Why It will Be The Worst Year Ever for Millennials!
Five Ways to use Cutting Edge Trends to Build Your Brand and Increase Your Sales
Four MUST DO Steps to Keep You and Your Clients Out of Trouble When a Mortgage is Involved
Hire and Train the Perfect Real Estate Assistant
How the Tax Cuts and Jobs Act Will Affect Your Business
Is the Association Financially Sound? Key Things to Help Educate Your Clients Before Purchasing in a Common Interest Community
Negotiating: Difficult People and Tough Situations
Screen-to-Screen Selling: Improve Profit Margins, Boost Productivity, and Customize Conversations
The Biggest Mistakes Coaches Make and How to Fix Them
TILA-RESPA: The Most Important Changes Affecting You
The 85th Texas Legislature passed House Bill 1508 effective September 1, 2017. Per §535.65 of the Commission Rules education providers must notify potential students that a criminal history may make them ineligible for an occupational license and that they have a right to request a criminal history evaluation before they enroll in courses. If a provider fails to give the notice required and an individual's application for a license is denied by the Commission because the individual has been convicted of a criminal offense, the provider shall reimburse the individuals the amounts required by section 53.153, Texas Occupations Code.
Individuals may request a criminal history evaluation by submitting a completed Fitness Determination Form to TREC prior to applying for a license.
Consider using this process if you have any criminal offenses, have unpaid judgments, had discipline taken against a professional or occupational license, or have performed unlicensed activity. A Fitness Determination is significantly cheaper than paying for an application, examination, and education necessary to receive a license.
Frequently Asked Questions
What is included in the 180-hour Texas pre-licensing package?
Will anything be shipped to me?
Is this program for college credit?
Is the cost of the state exam included?
No, you will need to apply with the Texas Real Estate Commission (TREC) to take the state exam.
What is the process for licensure?
Please visit this web page from TREC's site that outlines the process.
Society for Human Resource Management
Acquire the skills you need to conquer key HR challenges. These tools have been compiled by experienced HR professionals to educate and empower the next generation of HR experts and leaders.
Small Investment in Quality Training, Big Payback
This SHRM Essentials of Human Resources course covers the topics you need to meet key HR challenges that are relevant to you and your company. In six-weeks of training time, you can cover the issues you need to reduce potentially costly lawsuits.
Developed by leading HR experts, HR practitioners, and legal counsel, the SHRM Essentials of Human Resources course covers introductory HR topics in a condensed, easy-to-understand format. The straightforward format ensures that HR concepts can be mastered and applied to real-life situations. You will:
Keep up with key federal laws in areas such as total rewards, equal employment opportunity and harassment
Improve employee recruitment and selection
Increase your knowledge of orientation, onboarding, development and training
Understand best practices for employee handbooks
Download and use sample templates like employment applications, job descriptions, disciplinary policies and more
This six-week program combines expert instruction with the SHRM Essentials of Human Resources, so you will learn faster and retain more knowledge to accelerate your future in HR.
All courses are refundable within five calendar days from date of purchase. After five calendar days, courses are non-refundable.
A minimum of three enrollments are necessary for the course to make. If the minimum number is not enrolled at the time of the registration deadline a full refund will be issued.
Spring, Online Instructor Led
Course Dates
Feb 19th, 2024 – April 10th, 2024
Registration Deadline
Feb 12th, 2024
Contact

[email protected]

or 903.886.5089
Fee
$575
Offered in partnership with the Society for Human Resource Management (SHRM), the curriculum provided in the SHRM Essentials of HR is designed by global subject matter experts and incorporates six key topics from the SHRM Body of Competency and Knowledge™ (SHRM BoCK™). Our course is designed to help you learn and retain the material effectively and efficiently by combining learning materials with expert instruction and peer discussion.
A&M-Commerce's program offers you a strong foundation to advance your HR career.
Benefits to You
You'll benefit from:
An experience, SHRM-certified instructor.
A solid HR knowledge foundation to build on as you advance in your career.
A structured learning experience that keeps you on track.
It sets the state for further professional development with the SHRM-CP/SHRM-SCP certification.
Professional Development Credits (PDCs) or recertification credit hours and a certificate upon completion.
Benefits to Your Employer
SHRM Essentials benefits your entire organization:
Reduces the company's risk of high-cost litigation.
Promotes a consistent understanding of the HR function to non-Human Resources.
Offers professional development for divisional or departmental supervisors to ensure HR compliance.
Develops a common dictionary of HR terms for the entire organization.
Enhances the importance of the HR function within your company.
Designed as a thorough introduction to HR basics, the SHRM Essentials of Human Resources course provides a solid foundation in human resources concepts and is effective training across multiple job responsibilities and career paths.
New and junior HR practitioners who need to increase their knowledge base
Small business owners or office managers who perform the HR function for their company and business managers who want to learn basic HR best practices to avoid costly litigation
New or experienced managers interested in learning more about employee management skills
Representatives selling or supporting HR systems and services
International HR personnel wishing to increase their knowledge of U.S. HR practices
Job seekers who are investigating HR as a new career option or want to enhance their resume with HR skills
We understand the demands on the HR professional. That's why the SHRM Essentials of Human Resources course balances printed materials, online learning, and live instructor support to meet students' learning needs and schedules.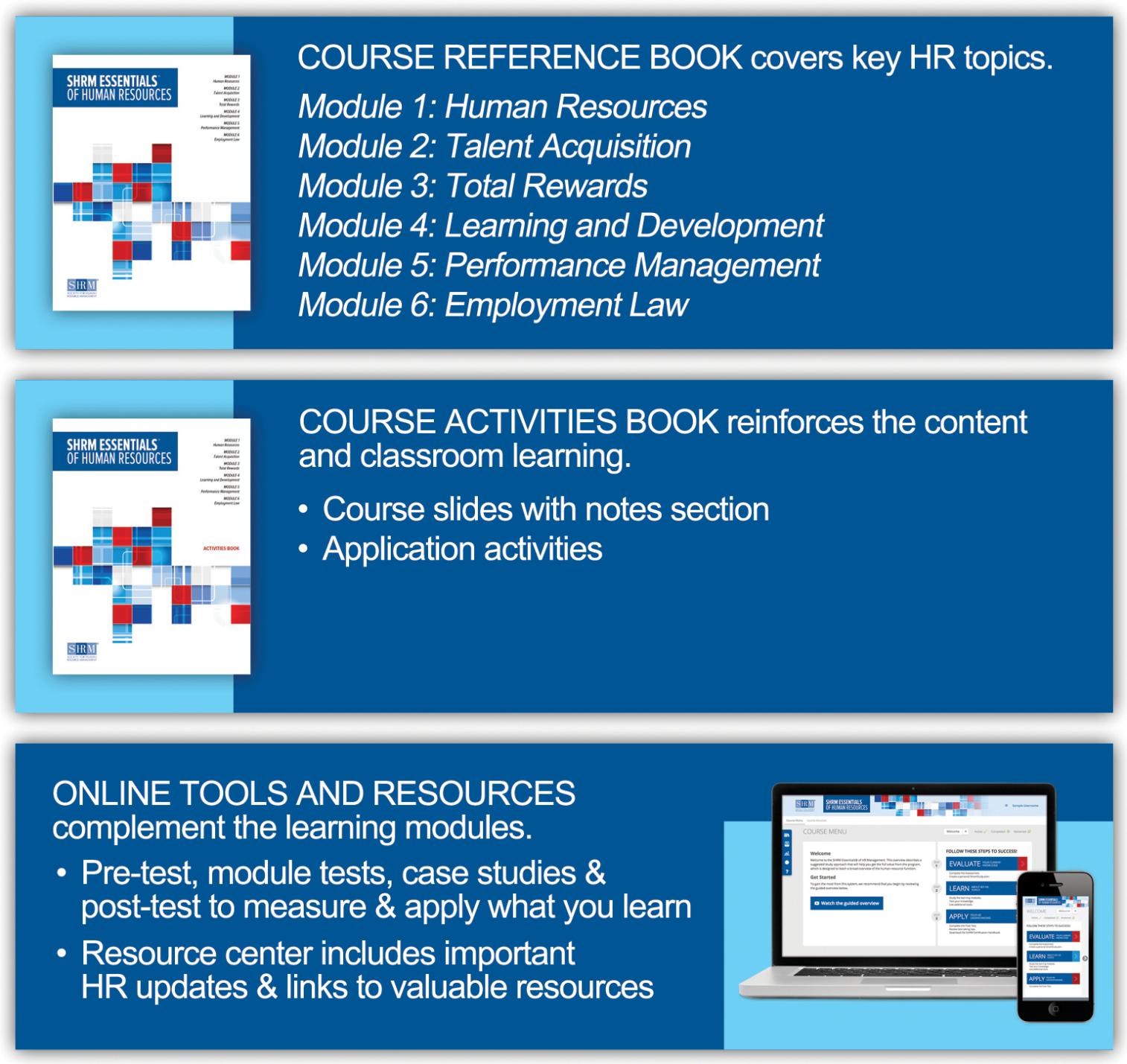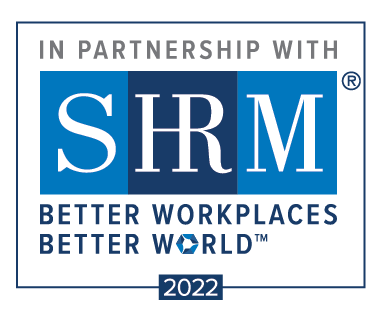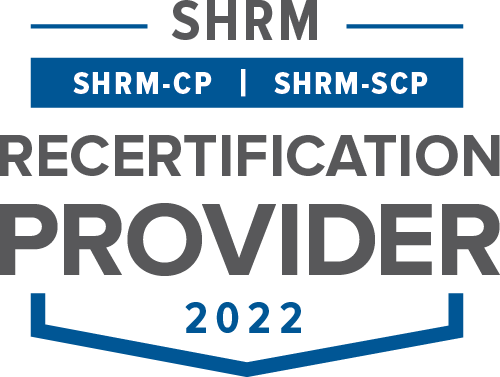 Our Team of Experts can Help You Succeed
Earning your SHRM-CP or SHRM-SCP credential makes you a recognized expert and leader in the HR field—and a valuable asset to your organization, keeping you and your organization more competitive in today's economy. This professional distinction sets you apart from your colleagues, proving your high level of knowledge and skills.
Increase your chances of passing your exam by attending our upcoming certification prep course. An expert, SHRM-certified instructor will be on hand to answer your questions, guide you through interactive discussions, review sample test questions and provide exclusive test-taking tips.
Spring, Online, Instructor Led
Course Dates
February 19th, 2024 – May 10th, 2024
Registration Deadline
February 12th, 2024
Contact

[email protected]

or 903.886.5089
Fee
$1,435
Fall, Online, Instructor Led
Course Dates
September 16th, 2024 – November 6th, 2024
Registration Deadline
September 9th, 2024
Contact

[email protected]

or 903.886.5089
Fee
$1,435
Our certification preparation course is designed primarily for individuals seeking SHRM-CP or SHRM-SCP certification. Certification is a great choice for HR professionals who want to:
Increase their knowledge
Advance their skills
Earn recognition from the global community
If you're not interested in certification but want to improve your HR skills, this course provides a comprehensive and accelerated option for professional development. Participants gain a generalist viewpoint, refresh key ideas and concepts, strengthen their understanding of core behavior and technical competencies and increase productivity in the workplace.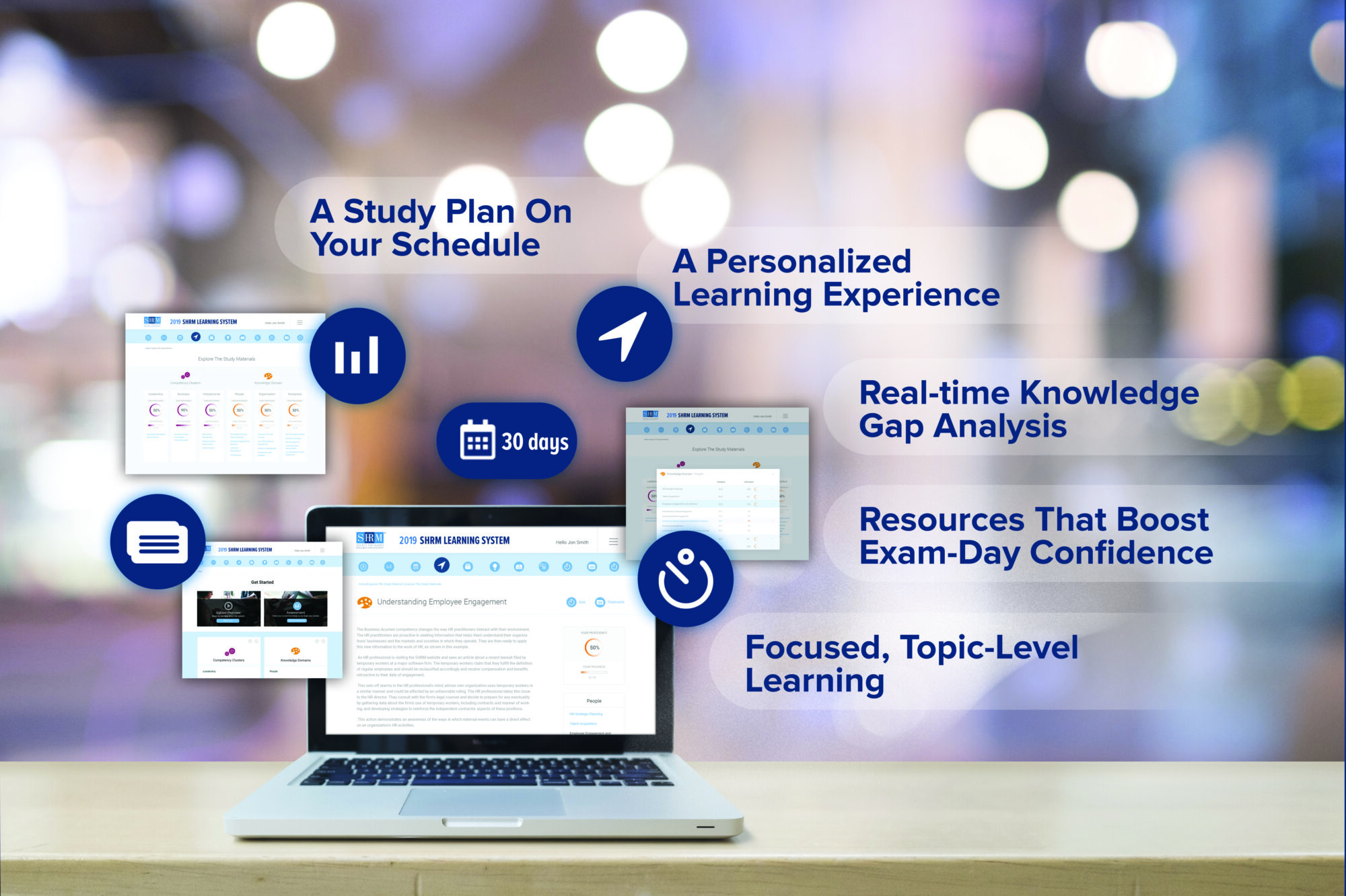 Personalized and Flexible
Finding the time to focus on career training can be tough when you're managing a busy workday and responsibilities at home. Stay on track to earn your certification with a structured learning experience and support.
Affordable Programs
We are committed to keeping your course fees as low as possible, while helping you reach your SHRM Certification or professional development goals. We can also help you take advantage of student discounts and funding options available to you.
1-on-1 Support
Gain guidance from our SHRM-certified instructors to help you comprehend and learn to apply your new HR knowledge. Network with peers to share real-life examples and bring HR knowledge and competencies to life.
SHRM LS
Dates
Contact Information
Course Fees
Fall
Online, Instructor-Led
Feb. 19, 2024 – April. 10, 2024
Registration Deadline:
Feb. 12, 2024

[email protected]

903.886.5089
$1,435
All courses are refundable within five calendar days from the date of purchase. After five calendar days, courses are non-refundable.
A minimum of five enrollments is necessary for the course to make. If the minimum number is not enrolled at the time of the registration deadline, a full refund will be issued.
High-Quality Instruction
Learn from highly respected and experienced, SHRM-certified instructors with years of hands-on experience in HR.
Virtual Classroom
Interact with your instructor and fellow classmates in virtual environments available anywhere with an internet connection.
Structured Learning
Keep yourself accountable and stay on track to earn your certification with a structured learning experience and support.
Certification and Product Information
SHRM-CP/SHRM-SCP Eligibility
Testing Windows and Deadlines
Download Certification Handbook
SHRM Learning System
HR Information
SHRM Resources
Become a Member
Events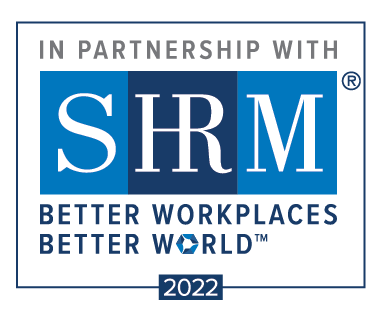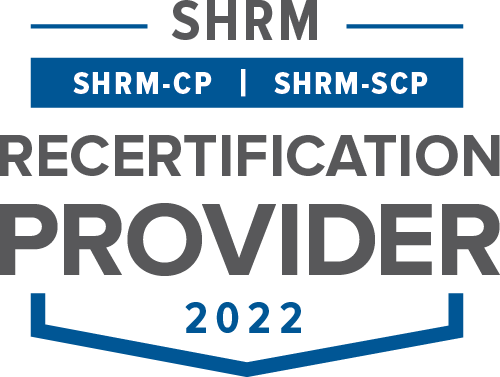 Frequently Asked Questions
Will anything be shipped to me?
Is the cost of the certification exam included?
No, you will need to apply through SHRM to take the certification exam.
Are there payment plans available?
At this time, we do not have any payment plans in place. Payment is due at time of registration.
Is this program for college credit?
Will financial aid, scholarships or VA benefits cover the cost?
Are there any prerequisites for this program?
No, we do not have any. To become certified you will need approval from SHRM. Please contact them or check out their eligibility requirements at shrmcertification.org/eligibility.
Is there a designated day or time for class?
Tactical Performance and Resilience Certificate Program
The A&M-Commerce Tactical Performance and Resilience Certificate Program provides exam preparation resources and instruction for those interested in earning the National Strength and Conditioning Association's NCCA-accredited Tactical Strength and Conditioning Facilitator® TSAC-F® certification. It also includes full support, professional resources and professional development opportunities for those interested in becoming a tactical strength and conditioning coach.
Those who complete this certificate program and earn the NSCA TSAC-F® certification will be prepared to successfully apply scientific knowledge to physically train military, fire and rescue, law enforcement, protective services and other emergency personnel to improve performance, promote wellness and decrease injury risk. They will also be prepared to conduct needs analyses and physical testing sessions, design and implement safe and effective strength training and conditioning programs, and provide general information regarding nutrition.
NSCA CEUs will be awarded to all participants who are currently NSCA-certified and complete this certificate program.
Cyber Analyst Certificate Program
The RELLIS Cybersecurity and Emerging Technologies Academy is a partnership between the Texas A&M University System (TAMUS), Texas A&M University–Commerce and the Institute for Cyber Threat Defense (ICTD). This unique collaboration is designed to provide skills development, workforce placement and mentoring programs in the areas of cybersecurity, artificial intelligence (AI), machine learning (ML) and emerging technologies.
The Cyber Analyst Certification Program offers a robust syllabus that covers more content than an average industry boot camp. Additionally, the curriculum is employer-tailored, ensuring that it is up-to-date and advantageous to those looking to start a career in cybersecurity.
Course Start Date: October 3rd, 2022
Mission Statement
The mission of the Training & Development Office is to foster the skills, competencies and talent of the A&M-Commerce workforce through offering innovative programs, workshops and tools. We seek to promote employee development and organizational effectiveness through relevant training programs. Our staff is committed to supporting organizational development through the continued growth of our university's most valuable resource, its people.
Vision Statement
To be the premier provider of relevant and high quality educational and developmental opportunities for A&M-Commerce employees and the communities of Northeast Texas.
Contact Us
Center For Professional Development
Employee Services Building
P.O. Box 3011
Commerce, TX 75429-3011