AIDS Quilt Display at A&M-Commerce Sparks Reflection and Discussion
A recent collaboration between Texas A&M University-Commerce and the National AIDS Memorial brought four sections of the AIDS Memorial Quilt to campus to honor more than 700,000 lives lost to AIDS in the 40 years since the first cases were reported.
The panels were prominently displayed in the Health and Human Performance gymnasium in the Nursing and Health Sciences Building at A&M-Commerce on Dec. 1 to commemorate World AIDS Day.
Jayson Douglas, director of the Office of Intercultural Engagement and Leadership, said he worked with the National AIDS Memorial to bring the quilt panels to Commerce to spark important reflections about the tremendous loss of life and to provide hope for the future.
"The AIDS Memorial Quilt helps us to remember those we've lost and ensures that their lives are not forgotten," Douglas said.
The Dec. 1 event marked the first occasion that sections of the AIDS Memorial Quilt have traveled to East Texas. Planners for the event said they hope to continue celebrating World AIDS Day, but most importantly, they seek to raise awareness of HIV/AIDS so that everyone has equitable access to resources and services.
In her opening remarks, Elizabeth Wachira, Ph.D., who serves as director of the graduate public health program at A&M-Commerce, challenged attendees to ask themselves, "What can I do so that all of us work together to fight the stigma and discrimination that surrounds HIV/AIDS, not only on December 1 but every day?"
Keynote speaker Bryan-Tyler Orr (pictured) is a health educator with Tarrant County Public Health. He is passionate about reducing barriers for those who are living with or diagnosed with HIV/AIDS.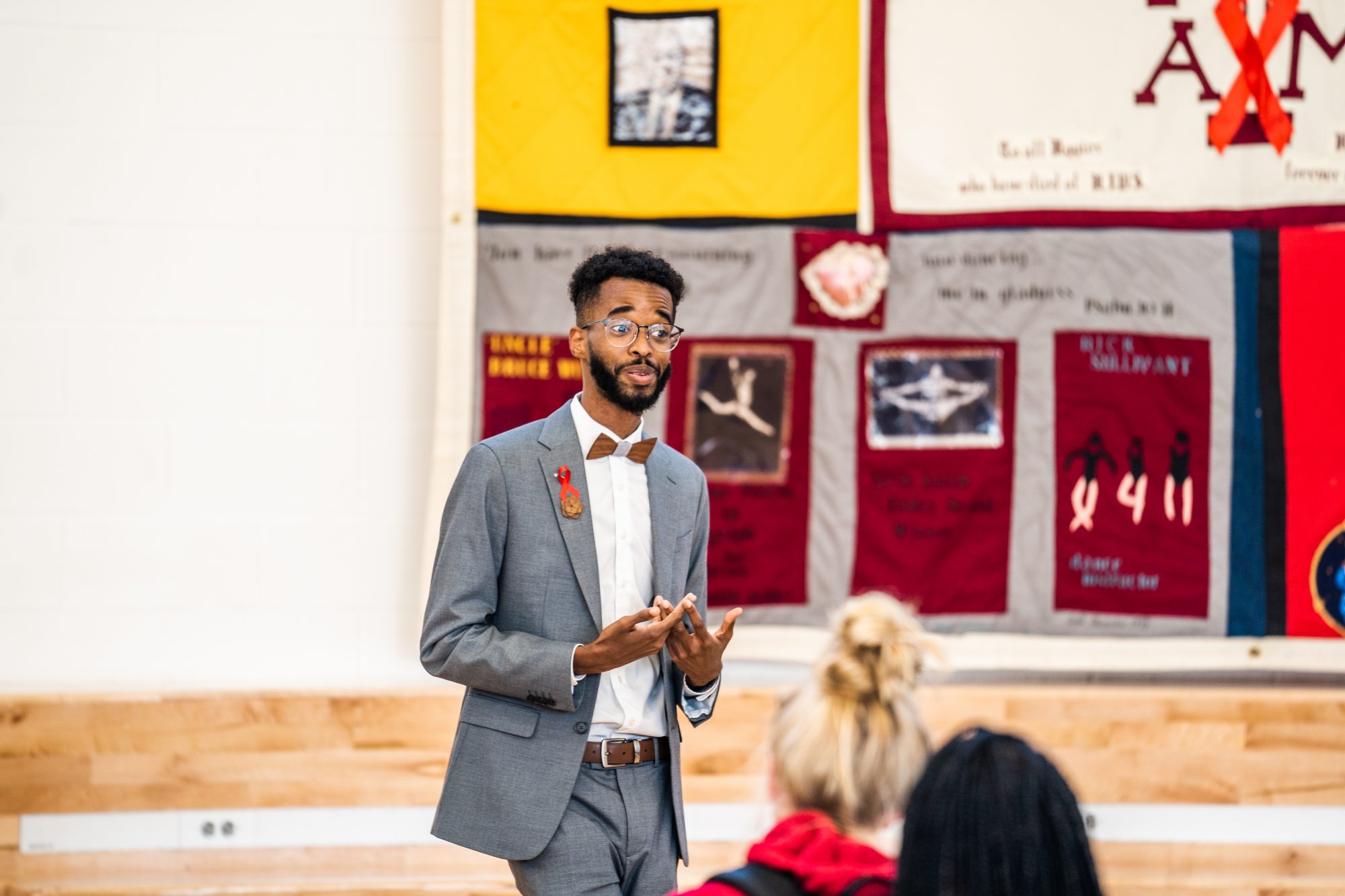 Diagnosed with HIV nearly a decade ago, Orr emphasized that there is life after HIV diagnosis. He said this year's World AIDS Day theme, "Ending the HIV Epidemic: Equitable Access, Everyone's Voice," personally resonates with him as he is all too familiar with the stigma associated with HIV.
"You may not see it, but you feel it," Orr said.
Associating HIV/AIDS with racism, Orr explained that "acting like something doesn't exist does not make it so." He said discriminating against those living with HIV/AIDS can cause feelings of shame, fear and depression.
He added that stigma surrounding HIV/AIDS often inhibits people from getting tested or seeking life-saving treatment.
Yet, HIV is now treatable and preventable, thanks to innovative medications and the courageous voices of those who are sharing their lived experiences and working to normalize conversations about sexual health.
"You need to have a healthy respect for disease, but when it moves to fear, it paralyzes you," said Denise Neil, Ph.D., assistant professor and director of the School of Nursing at A&M-Commerce.
As such, representatives from Callie Clinic in Sherman, Texas, and the Department of State Health Services were on-site at the event to provide free testing. Wachira said it's important for students to know their status so they can take necessary precautions.
According to the Centers for Disease Control and Prevention (CDC), human immunodeficiency virus (HIV) attacks the body's immune system. Left untreated, HIV can develop into acquired immunodeficiency syndrome (AIDS). The CDC reports that once someone contracts HIV, they will have it for life. However, with proper treatment, infected individuals can live long, healthy lives without progressing to AIDS.
Learn more about World AIDS Day, the AIDS Memorial Quilt and Callie Clinic.