Gatlings' Gifts Inspire New Generation of Alumni Donors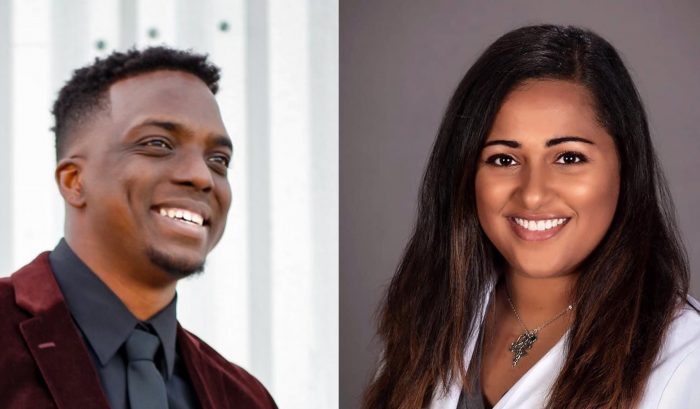 Christopher and Dr. Breanna Gatling are among the youngest donors in Texas A&M University-Commerce history. Their recent gifts set a precedent for a new generation of alumni to support their alma mater earlier in their careers.
The Gatlings introduced two new scholarships: The Breanna Gatling Scholarship in Veterinary Science and the Christopher Gatling Scholarship for Basketball.
The veterinary science scholarship will be awarded annually to an undergraduate student with financial need who is pursuing a degree in veterinary sciences. The basketball scholarship will be awarded annually to an undergraduate men's or women's basketball student-athlete with financial need.
Breanna first learned about A&M-Commerce when her high school counselor in Fort Worth shared information about the university's Honors College. Her lifelong goal was to become a veterinarian, and she was searching for just the right school. From her first campus visit, she knew A&M-Commerce was an excellent choice for her.
"As soon as I stepped foot on campus, I fell in love and felt so at home," she said.
Christopher grew up in the South Texas town of McAllen. He discovered A&M-Commerce from Coach Jaret von Rosenberg, a family friend who is now the head basketball coach at A&M-Commerce.
"Coach Rose was down visiting some family, and he came to my basketball game and watched me play," Christopher said. "I realized that I'd have an advocate up at A&M-Commerce as it's difficult to move so far away from home. I went up there a few times for basketball camps. When I did the formal campus tour, I was like, 'Wow, this is it; this is where I want to be.' It felt right. It was just small enough and just big enough."
Christopher joined the Lion Men's Basketball team in 2014 as a forward. Meanwhile, Breanna was an involved pre-vet student. She was the founding member of the Pre-Veterinary Society and a member of Kappa Delta Chi Sorority.
The couple reminisced that the campus environment was a friendly place where they could grow and blossom.
"While we were there, we felt so safe and had so many options," Christopher said. "When I think back to those times, I remember trying so many unique things that I don't have time for now. College life at A&M-Commerce allowed me to mold myself and grow and meet so many interesting people."
Breanna and Christopher met for the first time at a college party during their senior and sophomore years, respectively. A few months later, Breanna graduated from A&M-Commerce with a Bachelor of Science in Animal Science. She was accepted into the Texas A&M College of Veterinary Medicine and Biomedical Sciences in 2016, graduating in 2020 with her doctorate in veterinary medicine.
Christopher graduated from A&M-Commerce in 2017 with a Bachelor of Science in Psychology. He later received a master's in industrial/organizational psychology from the University of Houston at Clearlake.
The couple married in August 2020 and reside in Houston with their dog, Nico, a golden retriever mix. Christopher works as an executive search associate at Heidrick and Struggles, an executive search firm. Breanna is an associate veterinarian at Oak Forest Veterinary Hospital.
When asked why they decided to establish scholarships now, while they are still in their 20s, Breanna and Christopher agreed that they don't want to wait to make a difference in the lives of other young people.
"It's nice to just put our money where our hearts are and make sure that we're participating in the change that we want to see," Christopher said.
The couple is committed to diversity, equity, and inclusion in education, veterinary medicine and society as a whole, and they intend for their scholarships to support that work.
"I'm very passionate about seeing more diversity within veterinary medicine, a 96% white profession," Breanna said. "So, if my scholarship can help encourage more women and minority populations to pursue veterinary medicine, that'd be great."
Coach von Rosenberg expressed appreciation to the couple on behalf of Lion Athletics.
"Thank you, Chris and Brianna, for your loyalty and support!" he said. "This is a great example of how our great university pours into all its students. I was fortunate to recruit a great young man from my hometown to come play basketball here. Chris brought such great energy to everything he did in his time here, and our program and school are better from his attendance."
Dr. Randy Harp, dean of the College of Agricultural Sciences and Natural Resources, also shared his appreciation.
"It is my pleasure to acknowledge and accept the generous donation of funds for these scholarships provided by Christopher and Breanna Gatling," he said. "On behalf of the College of Agricultural Sciences and Natural Resources, we are proud of our wonderful alumni who give back to help others afford an education."
The Gatlings believe that alumni giving is within reach for most young professionals. Alumni can donate as little as $50 to join the Alumni Association or $5,000 over five years to establish direct scholarships. There is a commitment level that can meet you where you are.
"The minimum amount is doable for many people," Christopher said. "So, if this is something you care about, then look into it. You might be surprised at how simple it is to make a big difference at your alma mater."
Amber Countis, associate vice president of Philanthropy and Engagement, said the Gatlings are setting a valuable example for other young alumni.
"Breanna and Christopher's commitment to A&M-Commerce at this stage in their lives and careers is so amazing. They are setting a wonderful example that we would love to see more young alumni follow," Countis said. "I love that they are following their hearts and supporting two distinct areas that are near and dear to them."
Learn more about alumni giving opportunities by reaching out to [email protected], 903.468.8187 or by visiting tamuc.edu/Giving.