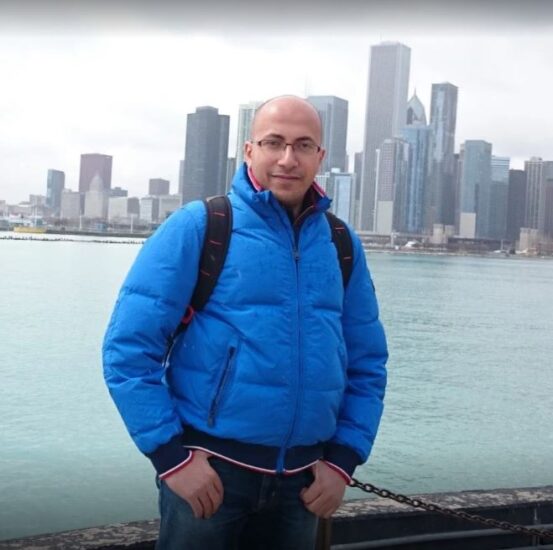 I believe that if the student loves his/her instructor, he/she will love what he/she is learning.
Ayman Elzohairy, Ph.D., P.E.
Assistant Professor
Engineering & Technology
Related Department
Engineering and Technology

Hometown
Zagazig City (two hours from Cairo, Egypt)
College Major
Structural Engineering
Ayman Elzohairy received his doctorate in civil/structural engineering from the University of Missouri-Columbia. His research focuses on material testing, steel-concrete composite structures, experimental testing and numerical analysis of structural elements, and performance and strengthening of steel-concrete composite bridges. His research has been presented in several articles published in ASCE journals and conference proceedings.
Dr. Elzohairy is a professional engineer with the Texas Board of Professional Engineers and Land Surveyors. His industrial experiences are particularly focused on structural analysis and design of high-rise buildings and bridges. He has a broad range of teaching experience.
Dr. Elzohairy teaches courses in structural analysis and design. He is also interested in teaching civil engineering courses including engineering hydrology and hydraulics, surveying for construction, and AutoCAD.
What would you tell a student who is thinking about attending A&M-Commerce?
"Attending A&M-Commerce is a great opportunity to be part of an integrated system for learning and building your career. A&M-Commerce has programs which are unique in value and experience, including the Construction Engineering program (CONE). This program offers the opportunity to meet with excellent professors and access to quality resources and collaboration opportunities to learn, develop and grow your career."
What is a current or recent research project or article that you're proud of?
"I am currently working on a research project to investigate the effects of environmental conditions on the mechanical properties of rubberized high-strength concrete. These conditions include freeze and thaw cycles, temperature and salt attack. Moreover, the effect of adding stainless-steel fibers to the rubberized concrete is investigated to utilize the advantages of both rubber and stainless-steel fibers in concrete. Concrete specimens are prepared with different percentages of rubber and steel fibers, cured and stored under different environmental conditions."
What has been your favorite course to teach?
"My favorite course is Structure Analysis and Design for the opportunity it provides for students to learn the basics of being a structure engineer. The course offers many topics related to structure and bridge engineers. During the course, we also work on using RISA 2-D software to analyze structures. This has been guiding students to improve their skills and build their careers as structure engineers."
Educational Background
Academic Positions
Assistant Professor, Engineering & Technology, Texas A&M University-Commerce, 2019 – Present
Ad-Interim Assistant Professor, Engineering & Technology, Texas A&M University-Commerce, 2019 – 2019
Adjunct Instructor, Civil and Environmental Engineering, University of Missouri, 2018 – 2018
Graduate Research and Teaching Assistant, Civil Engineering, University of Missouri, 2013 – 2018
Awards and Honors
Chuck Arize Junior Faculty Award Honor, 2020: "This award speaks well of my research, teaching, and service at A&M-Commerce"
Research Interests
Rubberized, high-strength concrete strengthening with stainless steel fibers
Effect of external, post-tensioning on fatigue-life of shear connectors in steel-concrete composite beams
Influence of temperature on the characteristic compressive strength and constitutive model of plain, hardened concrete
Experimental investigation of precast, prestressed, reinforced concrete segmental beams
Strengthening of steel-concrete composite beams with CFRP laminates
Professional Organizations
Selected Publications
Alsharari, F., El-Zohairy, A., Salim, H., and El-Sisi, A. (2021). "Pre-Damage Effect on the Residual Behavior of Externally Post-tensioned Fatigued Steel-Concrete Composite Beams" Journal of Structures.
El-Zohairy, A., Hammontree, H., Oh E., and Moler, P. (2020). "Temperature Effect on the Compressive Behavior and Constitutive Model of Plain Hardened Concrete" Journal of Materials, 13(12).
El-Zohairy, A., Alsharari, F., and Salim, H. (2020). "Analytical Model and Parametric Study for Static Flexural Behavior of Externally Post-tensioned Steel-RC Composite Girders" Journal of Structures, 27. https://doi.org/10.1016/j.istruc.2020.05.060.
El-Zohairy, A., Salim, H., and Saucier, A. (2019). "Fatigue tests on steel-concrete composite beams subjected to sagging moments" Journal of Structure Engineering, 145(5). https://doi.org/10.1061/(ASCE)ST.1943-541X.0002326
El-Zohairy, A., Salim, H., and Saucier A. (2019). "Steel-Concrete Composite Beams Strengthened with Externally Post-Tensioned Tendons under Fatigue" Journal of Bridge Engineering, 24(5). https://doi.org/10.1061/(ASCE)BE.1943-5592.0001390