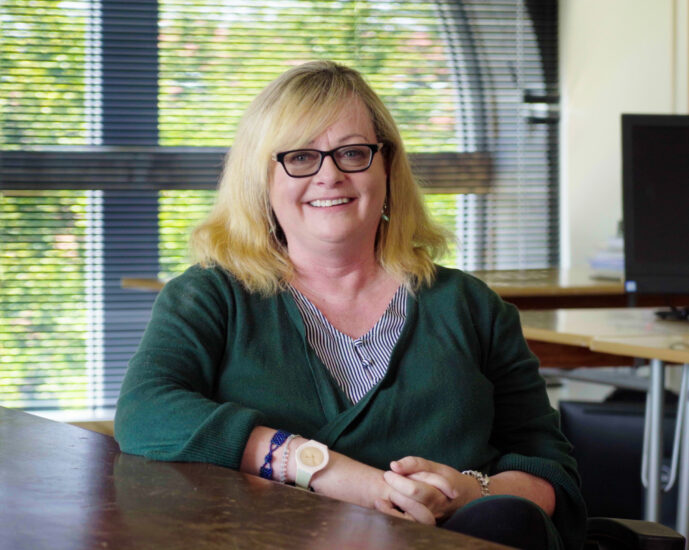 The best part about attending A&M-Commerce is that you are not a number. You are an individual who becomes part of the community.
Professor and Director of Applied Linguistics Lab
Literature & Languages
Office
David Talbot Hall of Languages 308
Related Department
Literature and Languages

College Major
Applied Linguistics
The personal touch is what Lucy Pickering offers to each of her students. She takes the time to build an interactive community among the students where students share experiences and help each other solve problems. When Dr. Pickering first moved to Texas, she decided to get involved and began riding horses on campus. One horse, Sunset Dancer, in particular captured her heart. In fact, she purchased Dani during one of the silent auctions. That was five years ago. Now, Dani enjoys the pasture, and Dr. Pickering enjoys spending time with her.
A Conversation with Dr. Lucy Pickering
What would you tell a student who is thinking about attending A&M-Commerce?
The best part about attending A&M-Commerce is that you are not a number. You are an individual who becomes part of the community. The instructors really care about your academic and personal development while earning your degree.
How has A&M-Commerce influenced your life and/or career?
Working at A&M-Commerce has allowed Dr. Pickering to work with her husband, Dr. Attardo, to develop a dual modality instructional model which allows a great deal of flexibility. Students can attend classes face-to-face on the main campus in Commerce, or attend online using Zoom, or attend asynchronously.
Tell us about an academic project you are working on or recently completed.
Dr. Pickering and Dr. Attardo are working on a proposal for a Ph.D. program in languages and linguistics that is 100% online.
Educational Background
Ph.D., Applied Linguistics, University of Florida, 1999
MA, Applied Linguistics, University of Florida, 1994
BA (Honors), Related Arts, Upper Second, West Sussex Institute of Higher Education, UK, 1988
Research Interests
The role of intonation in multiple varieties of English
Augmentative & Alternative communication device use in the workplace
Research Ethics (as part of my role as Chair of the Institutional Review Board for TAMUC)
Selected Publications
Pickering, L. "Discourse intonation: A discourse-pragmatic approach to English Pronunciation for ESL/EFL Teachers" 2018. Michigan University Press.
Pickering, L. & Evans, V. (Eds.). "Language learning, discourse and cognition: Studies in the tradition of Andrea Tyler." 2018. John Benjamins Press.
Pickering, L. Friginal, E. & Staples, S. (Eds.) "Talking at work: Corpus-based explorations of workplace discourse in office interactions, call centers and healthcare settings" 2016. Palgrave MacMillan.
Pickering, L. "Applications of applied linguistics to augmentative and alternative communication device users in the workplace" In S. Conrad, A. Hartig & L. Santelmann (Eds.), The Cambridge introduction to applied linguistics. Cambridge University Press.