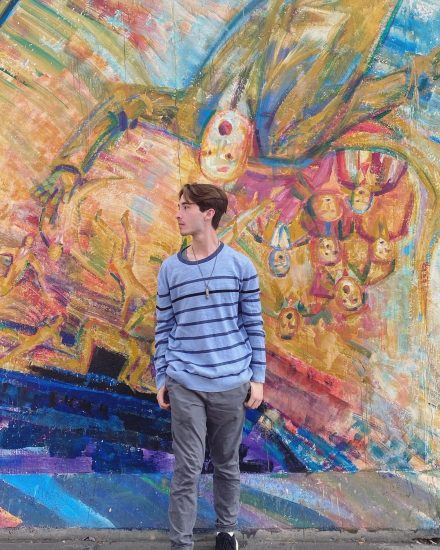 My favorite part of traveling overseas was getting to share the experience with my friends.
Noah Garcia
Vice President/Senate Chair
Honors | Student Government Association | Study Abroad
A Conversation with Noah Garcia
Why did you choose to participate in the Study Abroad program?
I chose to participate in the Study Abroad program because it fulfilled a requirement for my graduation in the Honors College here at A&M-Commerce. I was given the choice (as a 50% scholarship recipient) among internship, study abroad and thesis. I had always wanted to travel overseas to further my experience with other cultures, languages and viewpoints, so I decided to apply for the study abroad track. I am so glad I did.
What surprised you most about your experience?
It's funny to say, but the lack of free water in Europe was very surprising. The summer weather (especially in France) was very hot, and it was very easy to become dehydrated as we walked around. I was incredibly thankful for my water bottle that I stuck into my backpack. I was also surprised at how walkable the cities are! It was astounding how easy it was to traverse between the different areas in all cities we visited. It was almost a shock to come back to the U.S. and see how spread out our cities are compared to the efficient layouts of Munich, Dachau, Berlin, Paris, and Bayeux. We walked ten to eleven miles a day, plus we used public transport, and yet it did not feel like we were going huge distances because of how close everything is.
What was your favorite part of your time overseas?
My favorite part of traveling overseas was getting to share the experience with my friends. Being together in a group made the experience less scary. I did not have to worry as much about getting lost, pick-pocketed, etc. In addition, it was fun to learn how to get around the cities and just explore and try new things in an unfamiliar, beautiful world. I truly am so grateful that I was able to be there with them, and it brought us closer together. Also, on a more basic level, the food was pretty tasty.
How do you intend to use this experience in the future?
In the future, I 100% plan to go back to each city that we visited on this trip and others that we didn't. This was just a small dip into international travel, opening the door even wider to what I realized I am able to accomplish, even if I don't know the language! I would love to return to Europe, but additionally, it would be great to explore Asia, South America, and any other foreign country I am able to go to. I would not mind even moving to Germany and putting temporary roots down to get a fuller grasp of the culture. I can't wait to go back. It's changed my worldview, as the theme of the class was (and is) relevant and important.
What is your advice to students who want to study abroad?
My advice would be to study more on the specific cultures of the places you'll be visiting. It was tricky for us to figure out the specific dos and don'ts of getting the check at a restaurant, tipping policy, paying for bathrooms, where to get water, and so on. Learn a little bit (doesn't have to be much) of the language, as the basics will take you far. Even if you can't carry on a conversation in the language, knowing a little bit is a very good way to be polite and open the door to more conversation, as more people than I expected spoke English. Don't be afraid to immerse yourself! The touristy things are great to check off the list, but don't dwell on them too much. The true, natural culture away from the tourist traps are sometimes more fun and can provide extra opportunities.