A&M-Commerce College of Business Signs Agreements with Pair of Bangladeshi Universities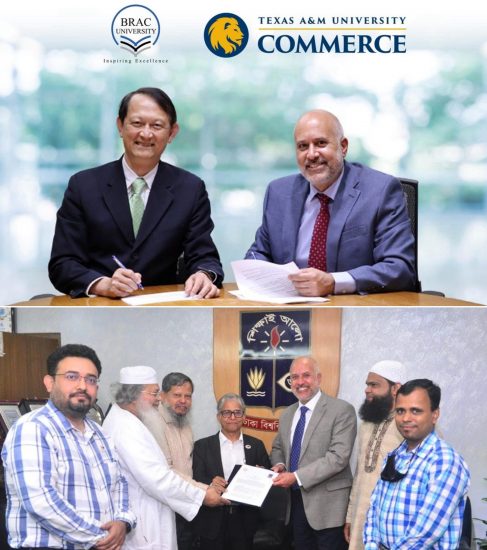 The College of Business at Texas A&M University-Commerce signed agreements with two universities in Bangladesh which allows for the seamless transfer of credits for international students seeking an American education.
Memorandums of understanding were signed in April with BRAC University and the University of Dhaka, both located in the Bangladeshi capital city of Dhaka, home to more than 20 million people in its entire metro area.
These agreements allow qualified graduates from both universities to be automatically accepted into a master's program in A&M-Commerce's College of Business or the M.S. in Computer Science program, which is housed in the College of Science and Engineering but was included in the agreement.
In addition, undergraduate students at BRAC University may take advantage of a 2×2 agreement, where they can earn 60 credit hours at BRAC and then seamlessly transfer to A&M-Commerce to finish their undergraduate business degree.
Students attending A&M-Commerce through this partnership are also eligible to apply for a $1,000 per year competitive scholarship. If a student is awarded this scholarship, they will be allowed to pay in-state tuition, bringing another savings opportunity.
Dr. Mario Hayek, dean of the College of Business, says that these agreements stemmed from talks, facilitated by Associate Professor of Management Dr. Guclu Atinc, with current and former Bangladeshi students who had made great strides in their education by attending A&M-Commerce.
"We have had several students from Bangladesh in our college in recent years, and we began this dialogue with them where they suggested we look into these kinds of partnerships," Hayek said. "We did some research and determined that this would be a worthwhile partnership."
Hayek traveled to Dhaka in April of this year to sign the agreements with the two universities. The agreement is for a five-year period, and at the conclusion of the period, each constituent institution will have the ability to renew the agreement. He hopes to build on this initial international partnership in the future.
"We have already started looking into other areas where we would reach out, such as Nepal, India and Nigeria," Hayek said. "A planned initiative is to start a career fair catered toward international students in the fall."
A&M-Commerce President Dr. Mark Rudin applauded the initiative shown by Hayek and the College of Business in creating this new partnership.
"I commend the work Dr. Hayek and the College of Business have undertaken to secure these agreements," Rudin said. "I believe that this will open more doors for international students to attend our great university. While we enrich them with education, they enrich our university community by creating a culturally diverse campus."
BRAC University is a private research university founded in 2001. It is a branch of BRAC, which was created in 1972 as the Bangladesh Rehabilitation Assistance Committee and has grown to be the largest non-governmental organization in the world by number of employees. BRAC University has more than 10,000 students studying in 32 different degree programs.
The University of Dhaka is both the oldest and largest public university in Bangladesh, founded in 1921 and boasting an enrollment of more than 37,000 students.
Learn more about BRAC University and the University of Dhaka. Learn more about the A&M-Commerce College of Business.

(Pictured, Dr. Mario Hayek, dean of the College of Business at Texas A&M University-Commerce, signed agreements with a pair of universities in Bangladesh to provide a pathway for students to attend A&M-Commerce to pursue degrees in business or computer science.)