I am delighted to join the ranks of the dedicated voice faculty at Texas A&M University–Commerce and I look forward to teaching, learning, and growing with my students.
Leanne Scaggs, DMA
Instructor of Voice & Opera
Music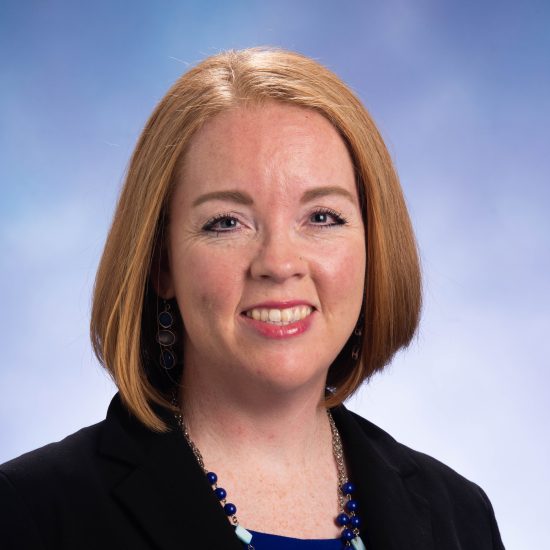 College Major
Vocal Performance
American soprano Leanne Scaggs is increasingly gaining attention for her musicality, "brilliant comedic timing" and charm on-stage. Her repertoire is vast, but Mozart holds a special place in her heart with favorite roles including Despina (Cosi fan Tutte), Zerlina (Don Giovanni) and Susanna (Le Nozze di Figaro.) Other favorite roles include Sophie (Werther), Norina (Don Pasquale) and Emmie (Albert Herring).
An active member of the North Texas Pan-American Vocology Association, Opera on Tap (North Texas Chapter) and the Dallas Alumnae Chapter of Sigma Alpha Iota, Dr. Scaggs performs regularly in recitals and concerts throughout the North Texas region. Additionally, she has performed on operatic stages and concert venues across the United States, France, and Germany with various opera companies and young artist programs.
Dr. Scaggs was the 2020-21 recipient of the Chapter Service Award for her work as Editor/Historian for the Dallas Alumnae Chapter of SAI and was a past recipient of such awards as the Samuel Ramey Professional Development Grant and SAI Professional Development Grant.
Dr. Scaggs earned her Doctor of Musical Arts degree in vocal performance from the University of North Texas where she studied vocal pedagogy with Dr. Stephen Austin and voice with Dr. Jeffrey Snider. She holds a Bachelor of Music in Education and a Performing Artist Certificate in Vocal Performance from the University of Arkansas, as well as a Master of Music in Opera Performance from Wichita State University. Dr. Scaggs' research interests include the life and works of German composer and vocal pedagogue Nina d'Aubigny von Engelbrunner. Her doctoral dissertation contains a modern performance edition of Ms. d'Aubigny's collection of songs, Deutsche, Italienische und Französische Gesänge mit Begleitung des Pianoforte.
Educational Background
DMA, Vocal Performance, University of North Texas, 2019
M.M., Opera Performance, Wichita State University, 2011
B.M., Music Education, University of Arkansas, 2008
Academic Positions
Adjunct Instructor, Voice, Texas A&M University-Commerce, 2015-Present
Private Instructor, Voice, Community Music School, University of Arkansas, 2012-2015
Graduate Teaching Assistant, Voice and Opera, Wichita State University, 2009-2011
Professional Organizations
Selected Performance and Professional Training
NATS 2020 Virtual National Conference, 2020
Vocal Pedagogy Workshop, Stephen Austin: Clinician, University of North Texas, 2017
Naked Voice Institute, W. Stephen Smith: Clinician, Northwestern, 2015
Lyric Opera Studio Weimar, Germany, 2011 & 2013
Opera in the Ozarks, Arkansas, 2006 & 2010
Franco-American Vocal Academy, France 2009
Awards and Honors
Chapter Service Award, Sigma Alpha Iota, Dallas Alumnae, 2021
Academic Achievement Scholarship, University of North Texas, 2015
First Place, Older Advanced Women, NATS Student Competition, 2014
Malcomb Hayward Fellowship, John Harrison Opera Foundation, 2013
Samuel Ramey Professional Development Grant, Wichita State University, 2011
National Finalist & West Central Division Winner, MTNA Young Artist Vocal Comp, 2011
Finalist in Concerto-Aria Competition, Wichita State University, 2010
Federation of Music Clubs Scholarships: Opera in the Ozarks, Arkansas and Kansas, 2010
Professional Development Grant, Sigma Alpha Iota Philanthropies, 2009
Sword of Honor Recipient, Sigma Alpha Iota, Sigma Omicron, 2008
Arkansas Region Winner, MTNA Young Artist Vocal Comp. 2007
Featured Courses
MUS 149 Restricted Applied Voice
MUS 151 Minor Applied Voice
MUS 152 Principal Applied Voice
MUS 352 Principal Applied Voice
MUS 352 Principal Applied Recital
Selected Community Involvement
National Vocal Competition Adjudicator, May 2020, Classical Singer National Convention Vocal Competition (Online)
Dallas Alumnae Chapter Editor/Historian, Aug. 2019 – Present, Sigma Alpha Iota International Music Fraternity, Dallas, TX
Hospitality Co-Chair, Fall 2017, Texoma N.A.T.S. Regional Conference, Texas A&M University-Commerce, Texas
Fayetteville Alumnae Chapter Vice President of Ritual, Aug. 2008 – May 2009, Sigma Alpha Iota International Music Fraternity, Fayetteville, AR
Sigma Omicron Chapter President Aug. 2007 – May 2008, Sigma Alpha Iota International Music Fraternity, University of Arkansas, Fayetteville
Founder & President Aug. 2005 – May 2007, Friends of Opera, Registered Student Organization, University of Arkansas