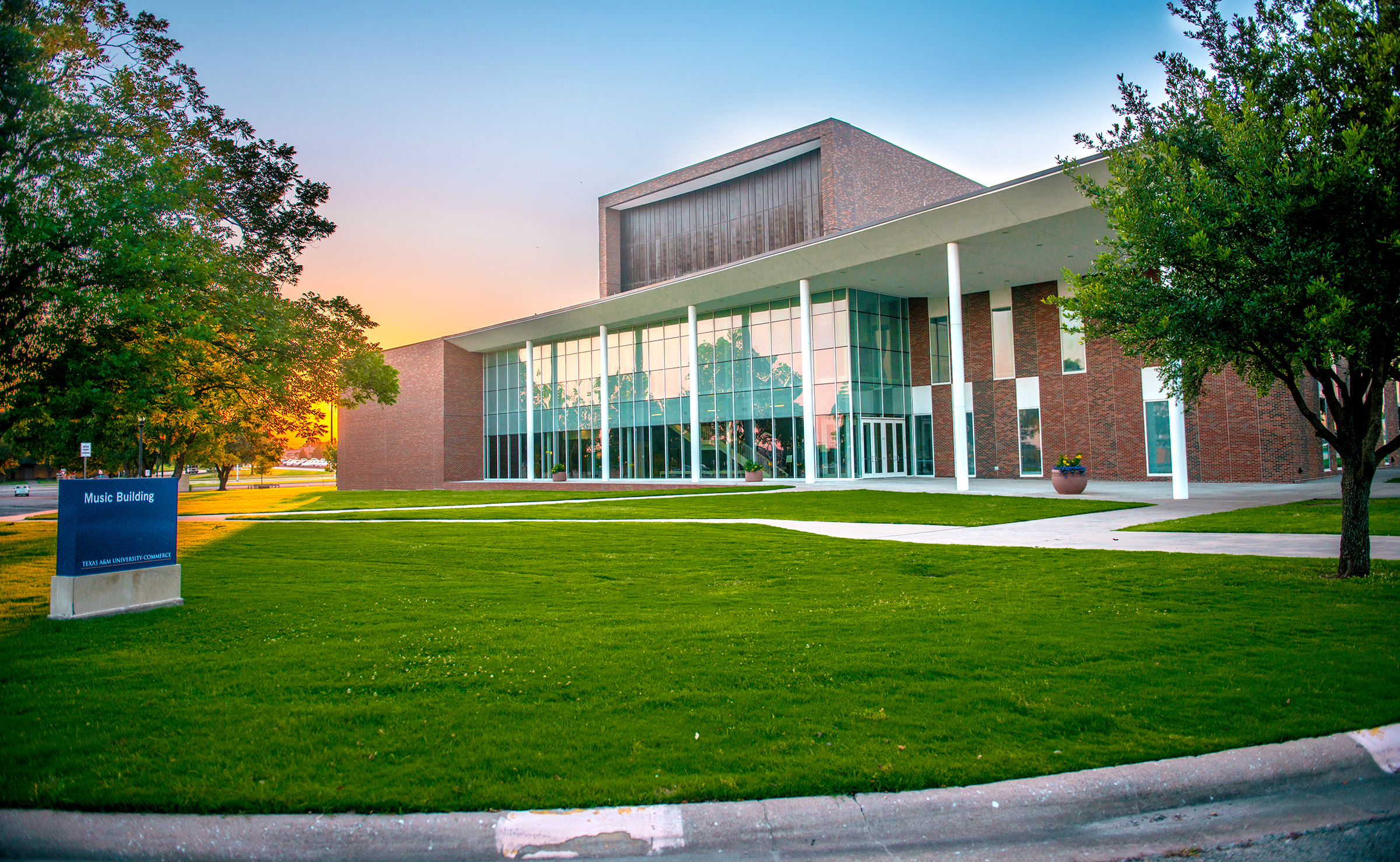 Instrumental
Unleash Your Musical Potential
As part of the A&M-Commerce Department of Music, you will have the opportunity to participate in exceptional instrumental ensembles performing a wide variety of music.
Wind Ensemble
The Wind Ensemble is the premier large instrumental ensemble at Texas A&M University-Commerce. Comprised almost exclusively of undergraduate and graduate music majors, the Wind Ensemble is equally dedicated to the performance of the cornerstones of wind literature, the finest contemporary works and a rich and varied repertoire composed for chamber winds. Led by Phillip L. Clements, director of bands, the Wind Ensemble continues to be on the forefront of new music for wind band, consistently commissioning new works from the nation's leading composers. Featured and guest composers have included David Maslanka, James Syler, Steven Bryant, John Mackey, David Sampson, Bradley Bodine, Michael Daugherty and James Stephenson. The Wind Ensemble has performed at numerous conventions of the Texas Music Educators Association (most recently in 2018) and the College Band Directors National Association. Additional performances have included Carnegie Hall and a ten-day concert tour of Germany and Austria (2016). The Wind Ensemble's most recent recording projects include Convergence (2013) and Traveler (2017).
Symphonic and Concert Band
The Symphonic Band and Concert Band are comprised of undergraduate music and non-music majors who have demonstrated an outstanding level of musicianship and a commitment to excellence. The mission of the Symphonic Band and Concert Band is to prepare teachers for careers in music education through exposure to challenging new works for wind band in addition to performing a number of works considered to be the "cornerstones" of wind literature. The Symphonic Band is under the direction of Allan Goodwin, and the Concert Band is under the direction of TBD.
Jazz Ensembles
Texas A&M University-Commerce features two Jazz Ensembles. Performing several times each semester, these ensembles provide opportunities for students to perform a uniquely American style of music that will further prepare them for careers in music education or performance. Jazz Ensemble 1 has performed most recently in Jazz Festivals in New Orleans, Louisiana, with the Dallas Jazz Orchestra, and at the Free Man Cajun Cafe in Deep Ellum (Dallas); they have performed with such noted jazz artists as Nestor Torres and Julio Barreto.
The jazz ensembles perform music in a variety of typical jazz styles including Swing, Blues, Rock, Latin and World Music genres. Participants also learn about the style elements associated with the legendary artists of jazz, as well as spending time developing the craft of jazz improvisation.
All jazz ensembles are open by audition to performers of all majors. Positions are available on saxophone, trumpet, trombone, guitar, piano, string bass (electric or acoustic), drum set, Latin Percussion and vibes.
In addition to the big bands, there are also jazz combo performance opportunities available. All students, regardless of major, may audition for the jazz ensembles. Interested students should contact the staff at [email protected] for more information.
Pride of the Court Basketball Band
The Pride of the Court is a highly spirited ensemble–selected by audition–to perform at men's and women's basketball games throughout the season. Comprised of some of the finest musicians and students from the university, the ensemble also performs at postseason Southland Conference and NCAA Tournament games. Auditions take place in early November and consist of both a prepared and a brief sight-reading excerpt. Instrumentation includes all brasses, a limited complement of woodwinds, drum set and accessory percussion. In addition to supporting Lion Athletics, The "Pride of the Court" performs at a number of other events as ambassadors of Texas A&M University-Commerce.
Color Guard
The Pride Marching Band performs for more than 60,000 people per year, including the Texas State Marching Contest as well as the Bands of America Regional Championships. The Pride Marching Band and Color Guard are based on a foundation that a college marching band can produce a product that is both musically and visually exemplary. The Pride draws its membership from the entire student body, representing most majors on campus. The Pride rehearses approximately 6 hours per week. Scholarships are available for color guard members regardless of major. Students enrolled at most community college campuses can still be members of the Pride. Contact the staff at [email protected] for more information.
Pride Marching Band
The Pride Marching Band is A&M-Commerce's most visible instrumental ensemble. The Pride performs at all home football games and at marching exhibitions throughout the state of Texas and the United States. Recent notable exhibition performances include Bands of America Grand Nationals (2019), Bands of America San Antonio Super Regional (2018) and the Texas 6A State Marching Contest (2016).
The Pride is based on a foundation that a university marching band can produce a product that is both visually and musically exemplary.
The Pride serves as the musical ambassador for the university and the community as a whole. Students that are interested in participating in The "Pride" should follow the links below or contact the staff at [email protected].
Marching Band Audition Requirements
Music Majors
Students who have formally auditioned and been accepted to the Department of Music are automatically accepted in The Pride Marching Band.
Non-Music Majors
Marching Band FAQs
As a Non-Music Major, can I still audition for concert or jazz ensembles?
Absolutely! We would love to have you audition for one of the many outstanding ensembles offered by TAMUC University Bands. Please send an interest email to [email protected] to notify the band staff. Auditions for these ensembles take place the weekend before classes begin. Audition music is generally posted 4-6 weeks before auditions. Please check the "Current Student Resources" tab on the Music Department webpage for audition material. Audition material for these ensembles will be posted on or before July 1st for the Fall semester, and on or before November 1st for the Spring semester.
Do I have to audition to become a member of The "Pride"?
Music majors who have already been accepted into the Music Department are automatically members of The "Pride". Students majoring in other academic disciplines are asked to complete an informal audition for a member of the marching band staff. This audition consists of a brief musical excerpt (or two), of your choice, which demonstrates your range, technical and lyrical playing. We would love to have you on campus as our guest for your audition. If this is not possible, a video audition can be completed by clicking HERE.
What about auditions for Drumline, Front Ensemble or Color Guard?
Prospective percussion and color guard members can complete a video audition by following the instructions in the section above labeled "Non-Music Majors". Percussionists should contact Lauren Teel, our marching percussion instructor ([email protected]). Those interested in Colorguard should send an email to [email protected].
What do I do to get started?
Please fill out The "Pride" Marching Band Interest form HERE. You will be added to our email and mailing list, and receive updates from the University Bands Office.
How do I register?
After your successful audition, you may enroll in one of the following courses: MUS100M (for brass and woodwinds) – MUS 100D (for percussion) – MUS 100G (for color guard)
Is there a cost to be a member of The "Pride"?
There is a minimal fee which covers the cost of most of the gear you will need (Ultimate Drill Book membership, band polo, band dry-fit t-shirt, baseball cap, end-of-season banquet ticket, etc.). Beyond the band fee, members will need to purchase correct shoes, and may purchase a "Pride" jacket, additional cold-weather gear, etc. A complete listing of expenses is published in the Summer Band Information Packet, which is annually distributed on or before June 1st.
When can I move into my residence hall?
Early move-in takes place on the first day of "Pride Week".  The Music Department covers the cost of your residence hall early during move-in. A link to the electronic Early Residence Hall Move-In form will be circulated in the Summer Band Information Packet, which is distributed on or before June 1st.
When do marching band rehearsals begin?
"Pride Week" for all members (including Percussion and Color Guard) begins on Wednesday, August 16, 2023, and concludes Friday, August 25, 2023.
I'm not a Music Major. Can I still become a member of The "Pride"?
Absolutely! The "Pride" is made up of students of all majors from across the university.
Are scholarships available for participation in The "Pride"?
Yes! Stipends are available for non-music majors based on audition and ensemble instrument needs.  Stipend amounts increase each year a student  participates as a member of the ensemble.  Please contact the band faculty for additional information.
How much time does being a member of The "Pride" take?
The "Pride" only rehearses three days per week. On Mondays from 7:00-9:00 PM, then Tuesday and Thursday from 12:30-2:45 PM. The Drumline, Front Ensemble and Colorguard each have a one-hour sectional outside of rehearsal time. The band only performs at home football games (approximately 5 games per season), and select exhibitions. On games days, there is a brief stadium walkthrough rehearsal for halftime timing, to coordinate with the Lion Dance Team, Cheerleaders, etc.