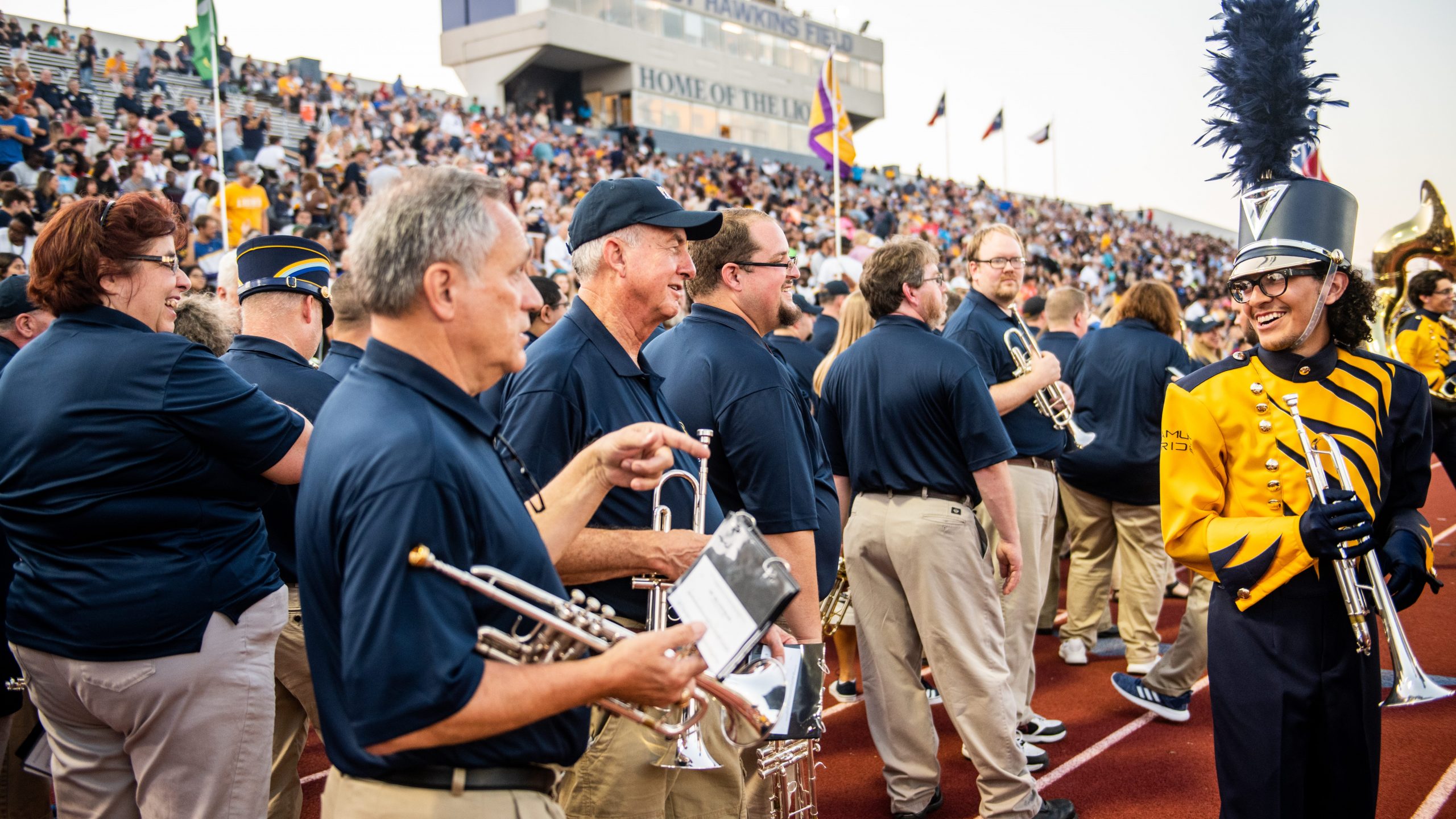 A Weekend of Friends, Fun and Music
The faculty and staff of A&M-Commerce Bands would like to cordially invite you to join us for the Texas A&M University-Commerce/East Texas State University Band Alumni Weekend!
TAMUC/ETSU ALUMNI BAND WEEKEND
Whether you are a recent graduate or one of our more "experienced" alumni, we want you to be with us for a great weekend of fun, music and friendship. The weekend will begin with an optional welcome reception on Friday evening and continue on Saturday morning with a music rehearsal and a brief marching rehearsal. A reunion lunch will be served in the music building and then we will join forces with the current "Pride" to take on the Stallions of North American University at 6:00 p.m. The Alumni Band will perform with the "Pride" at halftime and music will be available well in advance. The band will also have the opportunity to play in the stands during the game. For those who wish to just attend the event, a non-marching option is available. We will be able to provide most large instruments, including Sousaphones and Marching Percussion.
We are looking forward to a great weekend of rehearsing, remembering and rekindling friendships forged on our campus. We hope you will be able to join us and re-engage with the tradition of excellence that you helped create!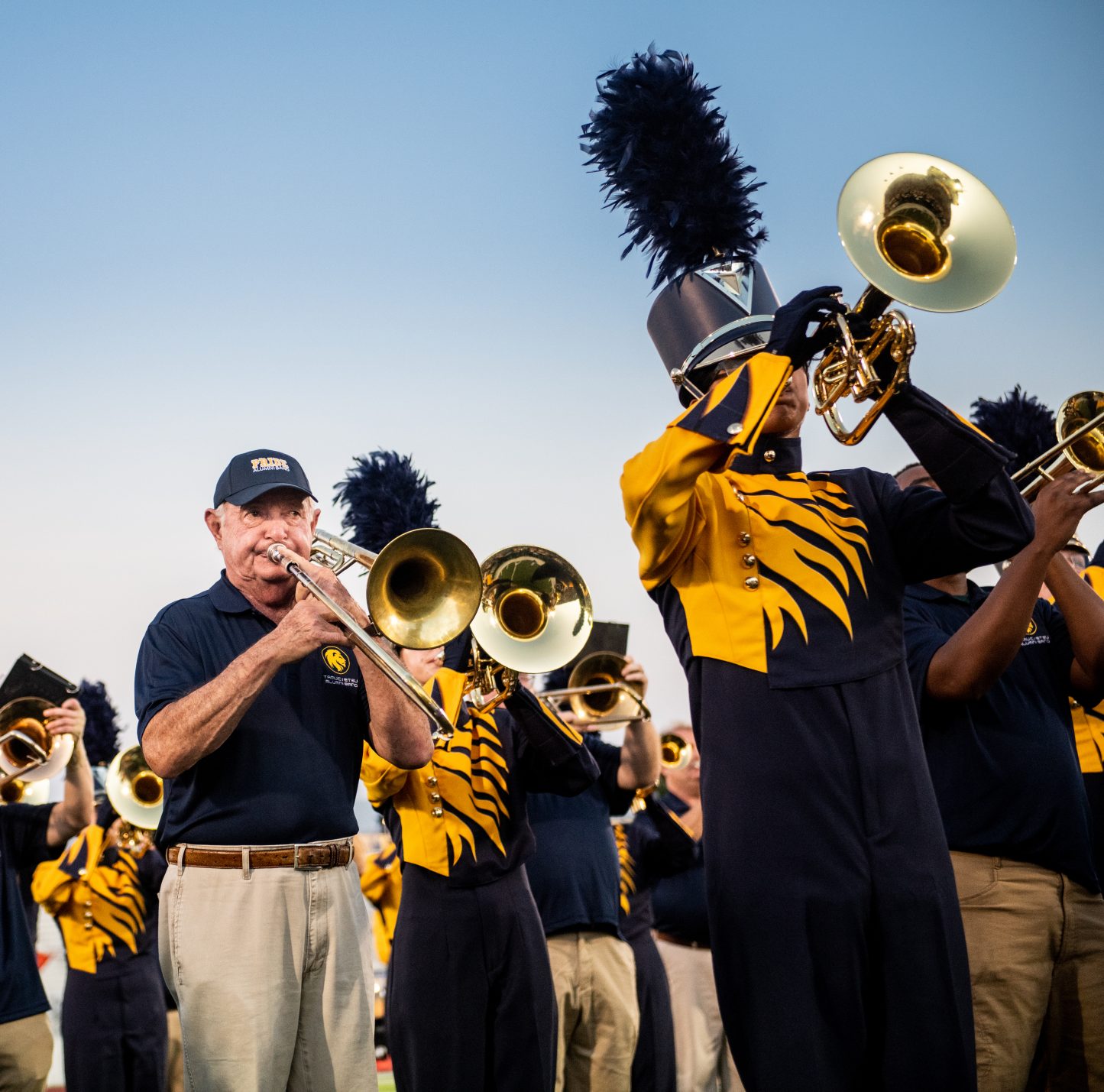 Registration
Register at the link below. The form also contains an additional link for online payment. The registration deadline is TBD.
Schedule of events
We have a full slate of events for you during alumni band weekend. You may download the entire schedule at the link below!
Frequently Asked Questions
How much does the event cost?
If you DID NOT participate in 2019, the cost for registration is $40.00, which includes a ticket to the football game, an Alumni Band Polo shirt (Alumni Polo is required for performance. Please add $2.00 for each size beyond XL), and lunch on Saturday.
If you DID participate in 2019 AND still have your Alumni Band Polo Shirt, the cost for registration is $20.00, which includes a ticket to the game, and lunch on Saturday.
An optional alumni band hat will also be available for an additional $15.00.
Who is eligible to participate?
Anyone who graduated from TAMUC/ETSU and successfully completed at least one season of marching band during their time here.
How do I access the music ahead of time in case I want to practice?
Music will be made available ahead of time on the Department of Music website. Watch your email and the A&M-Commerce band social media accounts for an announcement.
What if I can't attend the Friday night reception?
No worries. Friday night is a social event for those who are able to attend. All rehearsals and the actual performance of the Alumni Band are on Saturday.
What instruments will be provided?
We will be able to provide most large instruments including sousaphones and marching percussion (bring your own mouthpieces). Stick/mallet information will be sent to percussionists as they register. We have a limited number of mellophones and baritones that may be available on a first-come-first-served basis. Otherwise, concert instruments (French Horns, Euphoniums, etc.) are acceptable. Please email [email protected] or call 903.886-5303 for instrument questions.
Do I need a flip folder?
Yes. (Unless you have a great memory!) Flip folders will be provided and distributed at the first rehearsal.
How do I register?
Register here. Within the registration form is an additional link to online payment. You will be asked to supply a confirmation code of your payment at the end of the registration form. The registration deadline is Friday, September 2.
Can my family purchase extra tickets to the game or luncheon and sit near me?
You can purchase additional game tickets for family members at a cost of $5.00 each. Family members are encouraged to join Alumni Marching Band members in the West stands. Lunch will be provided for all those who have registered for the event, and for family members who paid for the luncheon online. This catered meal will take place in the lobby and Band Hall of the Music Building.
What if I haven't played my instrument in a while?
No problem! Whether it's been a month, a year, or a decade, we'd love to have anyone who is eligible join us for this special event.
When will colorguard routines be available?
Flag choreography will be available via online video. Watch your email and the A&M-Commerce band social media accounts for an announcement. 6′ flag poles and silks will be provided the day of the event.
What do I need to bring if I come to tailgate?
The Music Department has reserved 3 tailgate spaces on the Northwest lawn of the Music Building (spots 88, 89, and 90) and will provide tents, tables and chairs. Bottled water will be provided, but alumni band members will need to bring their own snacks and beverages. See the Lion Athletics website for additional details/restrictions.
Is there an option for someone who wants to play, but prefers not to march?
Absolutely. If you want to play with the band in the stands during the game, and do not, or are not able to march with the band, we would still love to have you participate in the event.
Contact Us
P.O. Box 3011
Commerce, TX 75429-3011