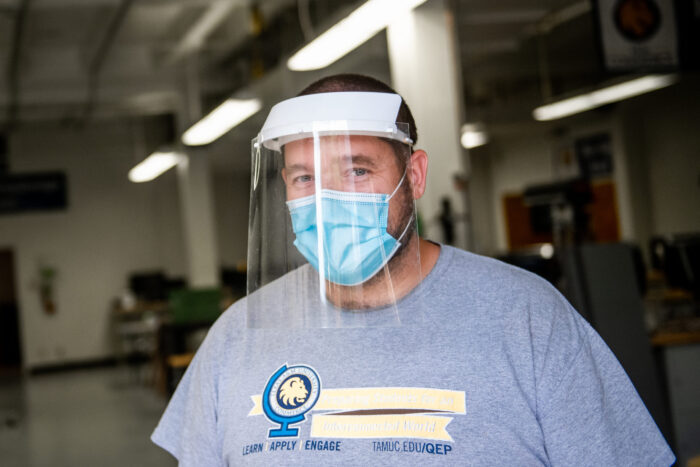 Technology management is a wonderful discipline because it mixes engineering & technology with business applications.
Perry Moler, Ph.D.
Assistant Professor, Director of the Jimmy and Sherroll Shirley Makerspace
Engineering and Technology
College Major
Technology Management
Perry Moler has been with A&M-Commerce for more than 15 years as either a student or a faculty member. During the COVID-19 pandemic, Moler applied his knowledge to create personal protective equipment for hospitals and law enforcement. He also created a fascinating device, called the Rube Goldberg machine with his Associations in Technology, Management and Engineering. Technology is his passion! In his down time, Moler is a fan of Super Rugby. He has been to Dunedin, Christchurch, Wellington and Sydney to watch Super Rugby matches in person. Moler enjoys traveling across the U.S. and around the world. Almost all of his trips involve sporting events such as rugby and college football.
A Conversation with Dr. Moler
What draws you to your discipline?
"Technology management is a wonderful discipline because it mixes engineering and technology with business applications. An example of this is the new 5G technology. This is allowing more devices to be connected, thus creating more data. The goal of an individual in technology management is to turn that data into information, which leads to knowledge, and then action by the organization."
What has been your favorite course to teach?
"The most enjoyable course is TMGT 457 Emerging Technologies. We are looking five to ten years into the future about which technologies will be used every day. This period of time is seeing growth in computer power (quantum computing), artificial intelligence and the Internet of Things. Not only are there discussions about technology, but also ethics, patent generation and sustainability as well."
Tell us about a project you are currently working on or recently completed.
"Since the first week of April, the Jimmy and Sherroll Shirley Makerspace has been assisting the Texas A&M University-Commerce response to Covid-19. We have made over 2000 face shields for hospitals and local school districts. Along with another 1,000 other types of personal protective equipment (PPE) for hospitals and local police departments. Besides making PPE, we have also been creating informative training videos for the Texas A&M University-System members."
Educational Background
Ph.D., Technology Management, Human Resources Development and Industrial Training Specialization, Indiana State University, 2017
MS, Technology Management, Texas A&M University-Commerce, 2010
BS, Technology Management, Texas A&M University-Commerce, 2005
Ass. Technical Studies, Environmental Restoration, Hocking College, 2001
Academic Positions
Assistant Professor, Texas A&M University-Commerce, 2018-Present
Instructor, Texas A&M University-Commerce, 2011-2017
Adjunct Faculty, Texas A&M University-Commerce, 2010-2011
Research Interests
Organizational Change and Development
Smart Device Applications within Emerging Technologies
Safety Training using Virtual and Augmented Reality
Professional Organizations
Association of Technology Management and Applied Engineering
Academy of Human Resource Development
Selected Publications
Moler, P. (2018). Engineering and technology students' perceptions of change and change readiness. 2018 Annual Conference Proceedings, Association of Technology Management and Applied Engineering (pp. 117-122). Raleigh, United States of America: Association of Technology Management and Applied Engineering
"Corporate Social Responsibility: Human Resources' Role in Community Development," Academy of Human Resource Development: International Research Conference in the Americas, San Antonio, 2017
"Exploring the Appropriateness of Performance Management Models in Hospital Settings: A Review of Literature", Academy of Human Resource Development: International Research Conference in Asia and MENA, Morocco, 2016
Featured Courses
ENGR 110 Introduction to Engine and Technology
ENGR 1304 Computer-Aided Design
TMGT 311 Environment and Safety Management
TMGT 439 Construction Management
TMGT 489 Risk Management