Department of Engineering and Technology Produces Face Shields for Area Medical Centers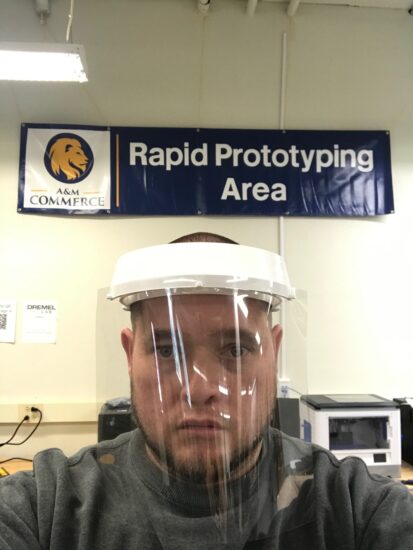 The Texas A&M University-Commerce Department of Engineering and Technology used 3D printers to manufacture 200 face shields for Paris Regional Medical Center as part of an effort to equip healthcare workers with necessary personal protective equipment (PPE) during the COVID-19 pandemic. The face shields were delivered to the hospital on April 23.
The department delivered an additional 200 face shields to Hunt Regional Medical Center in Greenville on April 28.
Face shields are designed to offer protection from fluids that may contain the coronavirus. They are commonly worn by healthcare professionals in addition to masks, glasses and other protective gear.
The project started when an administrator at Paris Regional Medical Center reached out to Dr. Brent Donham, dean of the College of Science and Engineering, to request help producing at least 200 face shields for their healthcare workers.
According to Donham, the pandemic created a severe shortage of PPE across the country, and smaller hospitals, like Paris Regional, find it especially difficult to source critical gear to protect their staff.
Faculty from the Department of Engineering and Technology immediately began working to meet the need at Paris Regional. The college has four 3D printers, which they set up to manufacture the face shields. To meet the demand, they ordered ten additional Dremel 3D printers which went into production on April 20.
Dr. Perry Moler, assistant professor of engineering and technology, is leading the project with help from Patrick Carter, distinguished lecturer of electrical engineering, and two student workers. Together, the team is able to keep 12 printers in production almost 24 hours per day.
The initial goal is to produce about 1,000 face shields, but that number may increase depending on demand. According to Moler, each face shield takes about three hours to produce, and at full production, the team is able to produce about 100 masks in 24 hours.
The 3D printing process creates the face shields from a computer-aided design model. Moler explained that a spool of plastic is loaded into the machine and then extruded through a heating element at 230 degrees centigrade. The machine successively builds up layers of the plastic in a process called additive manufacturing.
Moler sourced the face shield design from the National Institutes of Health. The face shield consists of a visor with a top vent to prevent fogging and a large plastic shield that extends down over the face. The durable plastic shields can be reused after sanitization.
According to Donham, A&M-Commerce will continue to produce face shields for Paris Regional Medical Center and other local and regional healthcare organizations as the need arises.
Moler emphasized that his team can manufacture other types of personal protective equipment as well. "Rapid prototyping and 3D printing these devices allow us to be flexible and to adapt," he said.