Former Faculty Member J.G. Grove Posthumously Named Professor Emeritus at Reception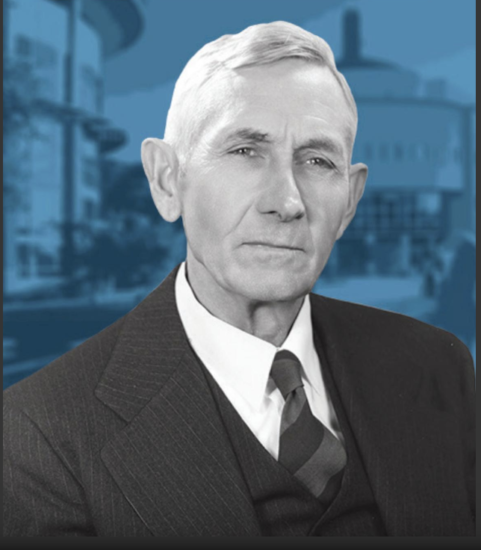 On February 6, the Texas A&M University System Board of Regents honored former faculty member Joe Gilbert Grove with the posthumous title of Professor Emeritus of Industrial Arts Education.
Grove is credited as the founder of the Department of Engineering and Technology at Texas A&M University-Commerce. In the early 20th century, he developed the department from the ground up. Set in motion by his foundational work, the department has evolved into a state-of-the-art educational program offering degrees in construction engineering, electrical engineering, industrial engineering and technology management.
During his 35-year career at the university (1919-1954), Grove served as a state leader in industrial education, wrote industrial education curriculum that was used and published nationally, and helped thousands of students attain a quality education and successful careers.
A reception honoring Grove was held at A&M-Commerce on February 17. Guests from the university and surrounding community joined several members of Grove's family at the Alumni Center to celebrate his important contributions to the university.
"This is a special occasion for us," said Dr. Mark Rudin, president of A&M-Commerce. "It's obvious that our institution has a rich history of pioneers and the pioneering spirit."
"Mr. Grove was a pioneer in industrial education at our institution, and his efforts have led to our College of Science and Engineering," Rudin said. "We felt it only fitting that we present the Grove family and posthumously present Mr. Grove with a Professor Emeritus rank at our university."
Dr. Brent Donham, dean of the College of Science and Engineering, said, "We thought it was appropriate at the start of Engineers' Week to mark the 100th year of when Mr. Grove started this department…Our engineering program continues to grow under that leadership."
Reception guests received a booklet titled "From Humble Beginnings: The Legacy of J.G. Grove," which outlines Grove's career and accomplishments at East Texas State. The brief biography follows the development of the engineering and technology department from its creation in 1919 through its impressive growth under Grove's 35-year leadership.
According to Dr. Andrea Graham, head of the Department of Engineering and Technology, "From those humble beginnings, our students who didn't think they'd have the opportunity of being exposed to engineering in East Texas now have that opportunity."
Grove retired from East Texas State Teachers College in 1954, yet his family continues to positively impact the university. His late wife, Mrs. Nelle Couch Grove, created the J.G. Grove Memorial Endowment in 1985 to financially assist engineering and technology students.
Additionally, throughout their careers at L3Harris Technologies in Greenville, Texas, both Bob Grove (son) and Jim Bob Grove (grandson) have provided internships and full-time positions to numerous engineering and technology students from A&M-Commerce.
"The legacy is rich, and it continues and lives on," said Graham.