Everyone should check out our university's archives and special collections department! It is fascinating!
Ashlie Hight
Systems and Discovery Librarian
Library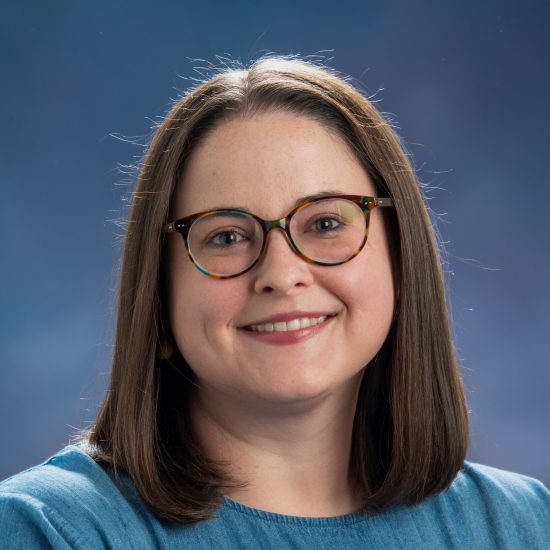 Office
Velma K. Waters Library 147A
Related Department
Library

Ashlie Hight is currently in grad school and looking forward to starting her career as a librarian after graduation. She is working on a library science degree with a focus on information organization, and she loves it! When she is not working or going to school, Ashlie is probably spending time with her adopted border collie mix named Owen, who has stolen her heart. Ashlie also loves books, and she enjoys giving them away when she is finished reading them so other people can enjoy them, too. She has saved a few of her favorites, though!
How can I help you?
From print books, e-books, online databases, academic journals, media equipment, audio and visual materials, and more, the library offers hundreds of thousands of information resources to our campus and community. As the cataloging associate, I help to maintain the records so that students have access to the library resources they need. My co-workers and I make sure that each resource is easy to find in an online search through the library's website and that, when found, the resource is available for use.
A Conversation with Ashlie
What do you like most about your career?
I really enjoy my job! The actual work is interesting, and I am constantly learning new aspects. However, the best part of my position is the team of people with whom I get to work. My supervisors are supportive and provide access to professional development opportunities. Library cataloging and metadata services are rapidly changing due to emerging technologies. I get to work in an atmosphere of learning, encouragement, analysis and persistence as we stay atop trends to provide the best services to students, faculty, staff, and community members.
What would you tell a student who is thinking about attending A&M-Commerce?
A&M-Commerce has been a welcoming environment since I first stepped onto campus four years ago for my interview. I am proud to work here. People are caring toward students, faculty, and staff, and accepting and open to sharing ideas and working collaboratively. Most importantly, A&M-Commerce is a community that believes in helping others succeed in their academic pursuits and preparing them for success after graduation.
Educational Background