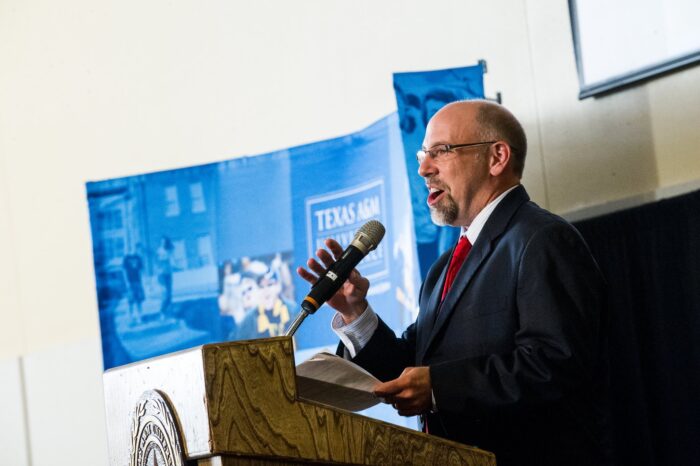 The world will never stop giving you things to learn. All you have to do is be willing to listen and open to change.
Raymond Green, Ph.D.
Dean of the Honors College
Honors
Office
Prairie Crossing 100B
Related Department
Honors

New York was his home until he moved to Commerce. Twenty years ago, Ray Green and his wife, Sabrina, left the East Coast for East Texas. Neither planned on staying. Commerce offered a temporary home and a temporary job. But that soon changed. Green found the space to thrive at A&M-Commerce and used this passion when he launched the Honors College in 2007. What was once an understaffed program housed in the moldy basement of Ferguson Social Sciences grew into a nationally-recognized, academic achievement. Since then, Green's walked with and mentored over 500 Honors Scholars. Now with two kids, Green and his wife are here to stay. While he misses good bagels and pizza, it's worth it in the end. He found his calling.
A Conversation with Dr. Ray Green
What would you tell a student who is thinking about attending A&M-Commerce?
"Do you want to be known? Do you want people to see the true you? A&M-Commerce provides a place where there are the opportunities of a DI school, but the size where you can still stand out."
What has been your most memorable moment helping an alum or donor?
"I really have no idea, there are so many moments that matter. One example of knowing that we are doing the right thing is when one of our alumni, who had some tough moments as an undergraduate, called me the night he defended his dissertation to thank me for my support and belief in him."
How has your role changed since you began working at A&M-Commerce?
"I arrived on campus as an assistant professor of Psychology. I was then blessed with the chance to build my own college. And now I get to play 'all the roles' – administrator, professor, amateur counselor, recruiter, and intramural teammate!"
What do you like most about your career?
"I have the opportunity to work with bright and hardworking students on a daily basis. They give me great confidence that our world is being left in caring and competent hands"
Educational Background
Ph.D., Social Psychology, Rutgers University, 1997
MS, Social Psychology, Rutgers University, 1994
BA, Psychology, Drew University, 1991
Academic Positions
Dean, Honors College, Texas A&M University-Commerce, 2009-present
Professor, Psychology, TAMU-C, 2011-present
Director, University Honors College, TAMU-C, 2007-2008
Director, University Honors Program, TAMU-C, 2006
Associate Professor and Assistant Department Head, Psychology, TAMU-C, 2005-2006
Interim Department Head, Psychology and Special Education, TAMU-C, 2002-2003
Assistant Professor, Psychology, TAMU-C, 2000-2005
Instructor, Assistant Professor (Temporary), Psychology, Indiana University of Pennsylvania, 1997-2000
Lecturer, Drew University, 1997-2000
Teaching Assistant/Lecturer, Rutgers, 1991-1996
Awards and Honors
Honors Professor of the Decade, 2007-2017
Campus Life and Student Development Partnership Award, 2015
Honors Professor of the Year, 2010-11
Teaching Excellence Award, The Texas A&M System, 2009
H.M. Lafferty Teacher of the Year Award, 2004
Research Interests
Wellness among Honors Students
Naturalistic assessment of gender stereotypes
Social Cognition
Impostor syndrome
Professional Organizations
National Collegiate Honors Council
Great Plains Honors Council
Association for Psychological Science
Society for Personality and Social Psychology
Southwestern Psychological Association
Phi Beta Kappa
Phi Kappa Phi
Psi Chi
Society for American Baseball Research
Selected Publications
Henley, T.B., Green, R., & Donawho, P. (2017). A Preliminary Consideration of WAR as Evaluation. The Psychologist-Manager Journal, 20, 48-52.
Anderson-Clark, T.N., & Green, R.J. (2017). Basking in Reflected Glory: The Election of President Obama and Naming Behavior. Ethnic and Racial Studies, 40(1), 63-76.
Leary, T.G., Green, R.J. Denson, K., Schoenfeld, G., Henley, T.B., & Langford, H. (2013). The relationship among dysfunctional leadership dispositions, employee engagement, job satisfaction, and burnout. The Psychologist-Manager Journal, 16, 112-130.
Green, R.J., Ashmore, R.D., & Manzi, R. (2005). The Structure of Gender Types: A Test of the Elaboration-Encapsulation-Evaluation Framework. Social Cognition, 23, 429-464.