School Librarian Certification
As a library media specialist, you will encourage others to learn and find information using both print and digital resources.
Total Credit Hours
21 credit hours
Thesis Requirements
No thesis required
Foreign Language
No foreign language credits required
Life-Long Learners Need You
Discover ways of integrating literacy and technology into the classroom. Offered fully online, our 21-hour certification prepares you to work as a School Librarian or Library Media Specialist in Texas. Learn the basic skills in cataloging, classification, referencing and information organization for print and non-print sources. Explore literature for children and young adults, curate digital and print materials, and gain familiarity in a practicum with policies and procedures in school library administration. Interested in earning your master's degree? We also offer a 36-hour online master's in Educational Technology Library Science.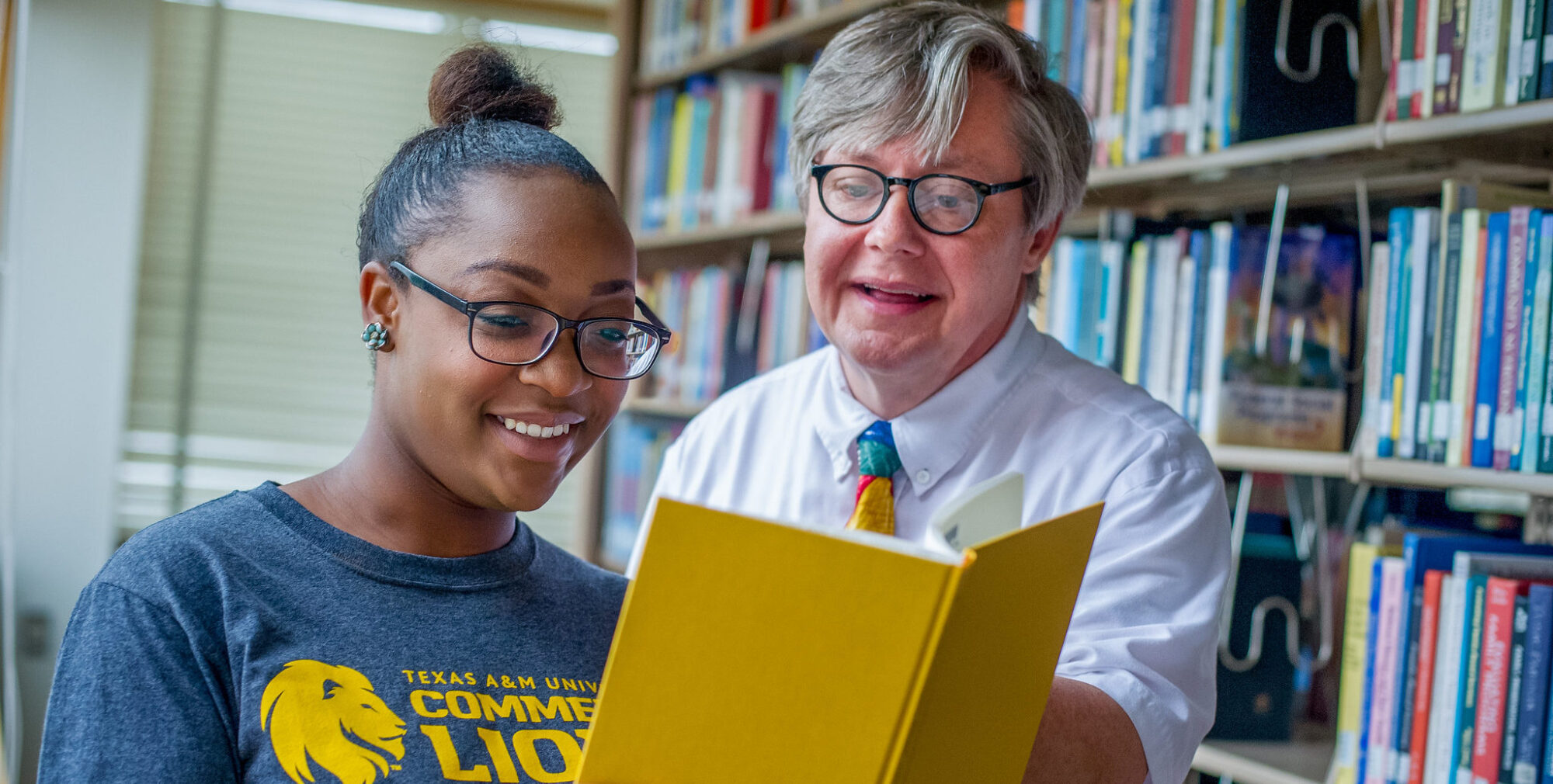 Admission
Deadlines
Applications are accepted throughout the year.
Your Path to Becoming a Lion
Program Requirements
Once admitted, you must:
Complete 21 hours of coursework
Complete a practicum in a school library and oversee an institution's collection
The Texas State Board of Educators also requires you to complete the following:
Two years of full-time classroom teaching experience
Master's degree
A passing score on the TExES (test #150)
Note: A copy of official service record for each year of classroom service must be provided to apply for certification before becoming fully certified.
Course Offerings
LIS 512 Information Reference and Mediographics (summer/fall/spring)
LIS 524 Developing General and Specialized Collection (summer/fall)
LIS 527 Books and Related Material for Children and Young Adults (summer/spring)
LIS 515 Cataloging and Classification (fall/spring)
LIS 540 Administration of School Libraries (fall/spring)
ETEC 579 Implementation of Educational Technology Programs (summer/fall/spring)
LIS 550 Practicum in a School Library (fall/spring)
Frequently Asked Questions
Is the School Librarian Certification approved by states other than Texas?
No. Our program prepares you to serve as a School Librarian in the state of Texas. Those seeking librarian certification in states other than Texas should contact the educator certification agency in their home state to check licensure requirements.
Is the School Librarian Certification accredited by the American Library Association?
No. This program is not ALA-accredited since it is a graduate certificate. However, our certification is approved by the State Board for Educator Certification (SBEC). This certification is only eligible within the state of Texas.
Contact Us
Department of Higher Education and Learning Technologies
P.O. Box 3011
Commerce, Texas 75429-3011
START YOUR JOURNEY! Two buttons
START YOUR JOURNEY!
Back to menu