Live every moment to the fullest.
Dongmei Cheng, Ph.D.
Associate Professor
Literature and Languages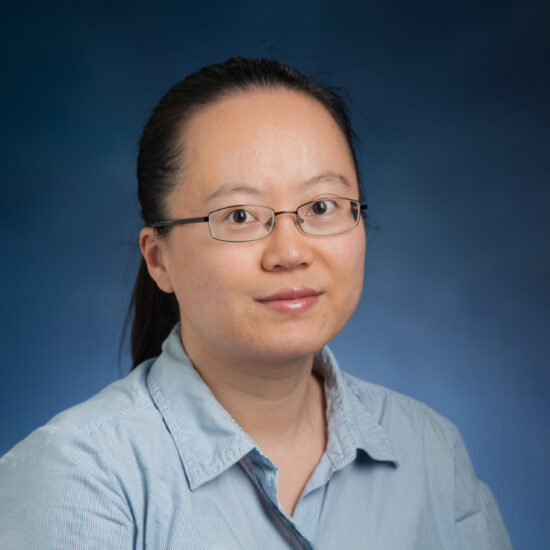 Office
David Talbot Hall of Languages 141
Related Department
Literature and Languages

Hometown
Renqiu, Hebei Province, China
College Major
Applied Linguistics
Dr. Cheng has been mentoring and teaching students at A&M-Commerce since 2016. She enjoys the flexibility and reach that our online programs offer. Supporting students all over the world, Dr. Cheng enhances her students' learning experiences using video conferencing, discussion boards and other online tools. She strives to create a dynamic and engaging learning environment that offers unique advantages like the flexibility to learn from anywhere in the world as compared to solely face-to-face learning.
A Conversation with Dr. Cheng
What would you tell a student who is thinking about attending A&M-Commerce? What sets A&M-Commerce apart from other universities?
The faculty involvement in student activities and professional development is what sets A&M-Commerce apart from other universities. Our professors are not just here to teach; they are also mentors and advisors who are committed to helping our students succeed. You will immediately feel at home when you are enrolled in our programs and supported throughout your student life here, whether you decide to be on campus or online.
Tell me about a current academic project on which you are working or have recently completed.
As a member of the university's AI task force, I am currently working on a project titled "Empowering International Graduate Students with ChatGPT for Research Paper Revisions." This project is exploring the potential of using ChatGPT, a large language model, to help international graduate students improve their research paper writing skills. ChatGPT is a powerful tool that can provide students with grammar and style suggestions, vocabulary enrichment, and coherence enhancement. It can also help students to identify and correct errors in their writing. I am excited to work on this project with a group of international graduate students and to see how ChatGPT can be used to help them improve their research paper writing skills. I believe that ChatGPT has the potential to be a valuable tool for writing instruction, and I am eager to share my findings with the academic community.
What is an important life lesson you have learned?
An important life lesson I have learned is to live every moment to the fullest. This means being present and appreciating all that life has to offer, both the good and the bad. It also means not taking anything for granted and making the most of every opportunity. I have learned that facing challenges head-on is the best way to overcome them. When we run away from our problems, they only get bigger. But when we face them head-on, we learn and grow from the experience. We also become stronger and more resilient.
What do you like to do when you are not working?
I spend most of my non-working time playing with and taking care of my three children. When they are not home and I'm not working, I enjoy reading, writing, walking outdoors, doing yoga and learning to play piano.
What is your favorite spot in Commerce? Why?
My favorite spot in Commerce is our university campus. I spent my first two and half years here living in Commerce. My son learned how to walk in the hallways of Talbot Hall and the Music Building back in the day, and till today, our whole family still enjoys taking a walk on campus. The campus is a place where I feel at peace and home.
Who has been a role model for you? How has this person positively influenced you?
Dr. Ruth Forsythe at Winona State University inspired me to become a successful teacher in the field of TESOL. She taught me how to connect with students on a personal level and how to foster their creativity and independent thinking. I am thankful for her mentorship and guidance.
Education
Ph.D., Applied Linguistics (with distinction), Northern Arizona University, 2013
M.A., Teaching English to Speakers of Other Languages, Winona State University, 2007
B.A., English Language and Literature, Hebei University of Technology, 2005
Academic Experience
Associate Professor, Texas A&M University-Commerce, 2022-Present
Assistant Professor, Texas A&M University-Commerce, 2016-2022
Lecturer, Southern Illinois University, 2013-2015
Instructor, Northern Arizona University, 2008-2013
Lecturer, International College at Beijing, 2007-2008
Professional Associations
Awards and Honors
Global Fellow Award, Texas A&M University-Commerce, 2018
Research Interests
Interlanguage Pragmatics
Computer-Assisted Language Learning
Online Teacher Education
Publications
Cheng, D. (Forthcoming in 2024). Investigating self-perceptions of speech acts via retrospective verbal reports. Applied Pragmatics.
Cheng, D. (2022). Review of books: Corpus Linguistics for Pragmatics by Christoph Rühlemann (2019). Contrastive Pragmatics. doi:10.1163/26660393-bja10064.
Cheng, D. & Li, M. (2020). Screencast video feedback in online classes. Computers and Composition. 58, 1-17.
Featured Courses
ENG 557 Teaching English as a Second/Other Language
ENG 559 Language and Culture in the Classroom
ENG 558 Sociolinguistics