Grady Blount
Professor Emeritus of Physics
Physics and Astronomy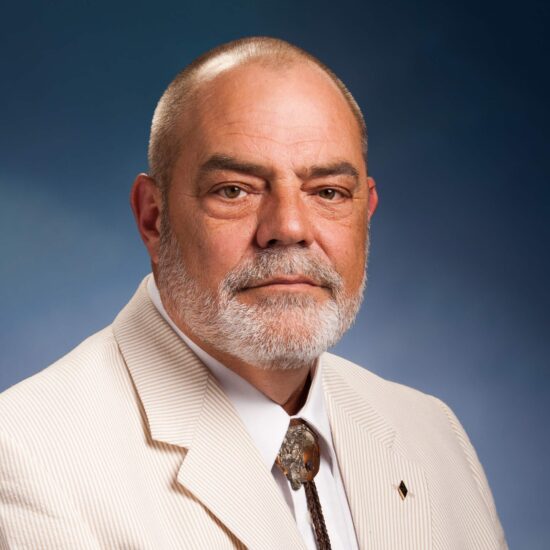 Related Department
Physics and Astronomy

Professor Grady Price Blount has spent his career as an interdisciplinary planetary and environmental scientist, specializing in solid surfaces and the dynamic forces which shape them. He shapes and challenges future scientists as he shares his knowledge and enthusiasm with his students. Blount's teaching interests include the traditional fields of remote sensing, geology (including geomorphology and sedimentology), climatology, and astronomy under the auspices of the integrated tenets of Earth System Science.
Blount participated in the NASA-sponsored Mars: Evolution of Volcanism, Tectonics and Volatiles (MEVTV) study group, and he was an invited speaker at the First International Conference on the Environment of Mars. He performed preliminary data analysis on the Clementine mission to the moon, contributing to the construction of the first-ever high-resolution lunar polar mosaic. In 1998, he completed a three-year NASA JOVE fellowship, working with the USGS Planetology Field Center to determine the effects of asteroid and comet impacts on the evolution of the Earth's environment. During his previous career as a journalist, he created the radio program StarDate (1978), which Deborah Byrd of the McDonald Observatory later turned into a nationally syndicated PBS radio program.
Education
M.S., History and Political Science, Texas A&M University-Commerce, 2015
Management Development Certificate, Harvard University, 2005
Ph.D., Planetary Geology, Arizona State University, 1988
M.S., Geology, Sul Ross State University, 1985
B.S., Geology, Corpus Christi State University, 1982
Awards and Honors
Phi Kappa Phi, 2013
Outstanding Administrator Award, Texas A&M University-Commerce Faculty Senate, 2012
Professional Organizations
American Geophysical Union
American Institute of Aeronautics & Astronautics
Intl. Society for Aeolian Research
Association of Mars Explorers
Experimental Aircraft Association
Institute of Electrical and Electronics Engineers
International Dark Sky Association
National Society of Hispanic Physicists
Society for Advancement of Chicanos and Native Americans in Science
Society of Photo-optical Instrumentation Engineers
Selected Publications
Hempelmann, C. F., Solomon, D., Arslan, A. N., Attardo, S., Blount, G. P., Adkins, T. & Sirakov, N. M., Detecting necessary and sufficient parts for assembling a functional weapon. Proceedings of SPIE 2017 Automatic Target Recognition XXVII, Anaheim, CA., doi:10.1117/12.2268808, 2017.
Blount, Grady Price and Rodriguez, Robert, Hispanics in Texas Higher Education: An Assessment of the State Closing the Gaps Initiative, Proceedings: First Pan-American Interdisciplinary Conference, Buenos Aires, Argentina, vol. 1, pp. 191-211, 2015.
Hempelmann, Christian F., Arslan, Abdullah N., Attardo, Salvatore, Blount, Grady Price and Nikolay Metodiev Sirakov. 2014. "Assessing the Threat of Firearms: New Threat Formula, Resources, and Ontological Linking Algorithms." In: Kadar, Ivan, ed., Signal Processing, Sensor/Information Fusion, and Target Recognition XXIII. Proceedings of SPIE Vol. 9091. Bellingham, WA: SPIE. 90910U1-12. doi: 10.1117/12.2050814, 2014.
Dyess, Jonathan and Blount, G.P., Field Mapping and Regional Remote Sensing of the Buck Hill Volcanic Group, Trans-Pecos Texas, Geological Society of America, Abs. with Programs Vol. 41, No. 7, 2009.
Blount, Grady Price, Holm, T. and Faundeen, J., Quaternary Park: Retrieval of Lost Satellite Images from the late 20th Century, Proceedings from the Annual Conference of the American Society for Photogrammetry and Remote Sensing-2001, St. Louis, April 2001.