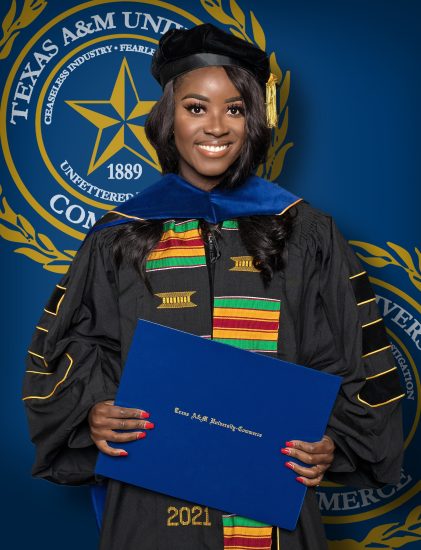 Dr. Mimi Li, my dissertation advisor, profoundly influenced my academic path. Her influence extended far beyond academia; her warm and approachable nature created a healthy environment where ideas flourished and dreams took flight.
Miriam Akoto, Ph.D.
Assistant Professor of French, Sam Houston State University
Literature and Languages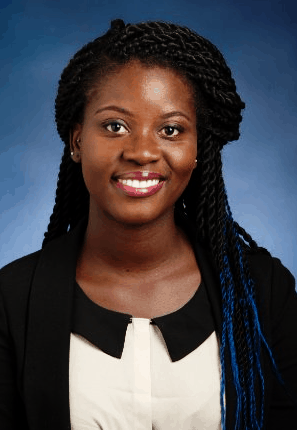 Employer
Sam Houston State University
Related Department
Literature and Languages

College Major
English/Applied Linguistics
Miriam Akoto is a skilled linguist from Ghana. She earned a doctoral degree in English with an emphasis in Applied Linguistics from A&M-Commerce in 2021 and currently teaches at Sam Houston State University. Dr. Mimi Li's course "Teaching and Researching L2 Writing" at A&M-Commerce introduced Akoto to the captivating world of second-language writing and research and profoundly influenced her academic path. Li's support and guidance since her doctoral studies have greatly contributed to Akoto's continued intellectual and professional growth.
Education
Ph.D., English/Applied Linguistics, Texas A&M University-Commerce, 2021
M.A., French, University of Arizona, 2016
B.A. (Hons), French, Second Class Upper Division, Kwame Nkrumah University of Science and Technology, 2013
Diploma, French, (Diplôme d'études en Langue Française B2) Ministry of Education of France, 2013
Diploma, French Studies, (Diplôme Universitaire d'Etudes Françaises, D.U.E.F), Université de Lomé (Centre International de Recherche et d'étude de Langues CIREL- VILLAGE DU BENIN), 2012
Honors and Awards
First place, Oral presentation, 13th Annual Pathways Student Research Symposium, 2016
First place, French Poetry Competition, Department of French and Italian, University of Arizona, 2015
Excellence in Teaching Award, Department of French and Italian, University of Arizona, 2015
Academic Positions
Assistant Professor of French, Sam Houston State University, 2022-Present
Lecturer of French, University of Michigan, 2021-2022
Graduate Teaching Assistant, Literature and Languages, Texas A&M University–Commerce, 2016–2021
French Teacher, Upward Bound Pre-collegiate program (TRiO Programs), Texas A&M University–Commerce, 2017
Graduate Teaching Assistant, French and Italian, University of Arizona, 2014–2016
Teaching Assistant, Modern Languages, Kwame Nkrumah University of Science and Technology, Ghana, 2013–2014