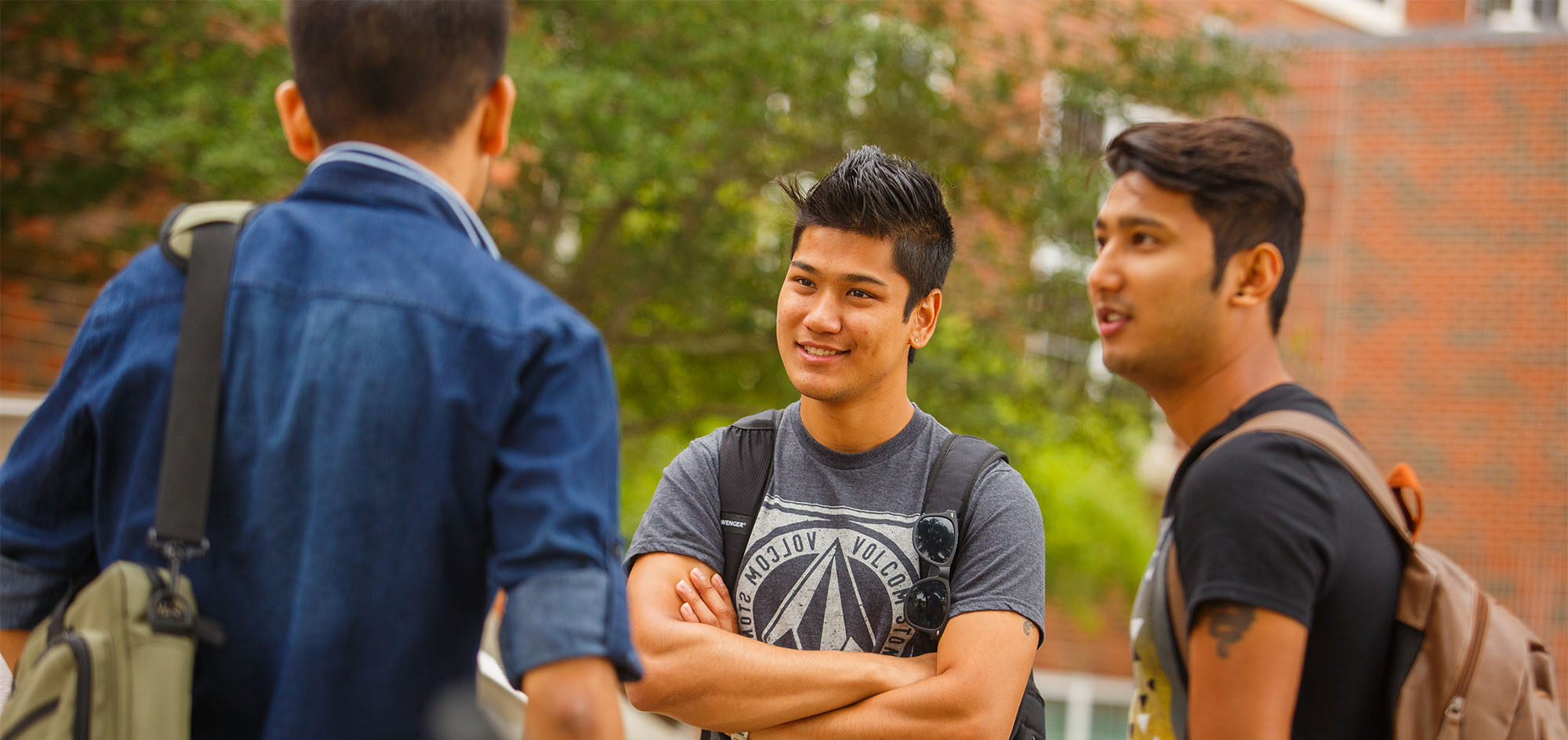 JED Campus
Enhancing Mental Health Education
A&M-Commerce is proud to be one of only three schools in the state of Texas to have a strategic partnership with JED Campus, a signature program of The Jed Foundation (JED). This partnership aims to guide schools through a collaborative process of developing comprehensive systems, programs, and policies with customized support to enhance existing student mental health, substance abuse, and suicide prevention efforts. We provide the best possible support for our students' well-being.
A&M-Commerce is a JED Campus!
JED Campus is a signature program of The Jed Foundation (JED), designed to guide schools through a collaborative process of developing comprehensive systems, programs and policies with customized support to build upon existing student mental health, substance abuse and suicide prevention efforts.
To date, colleges and universities representing over 4.5 million students have engaged in this process of robust assessment and enhancement of their mental health, substance use and suicide prevention policies, systems and programs through their membership in JED Campus.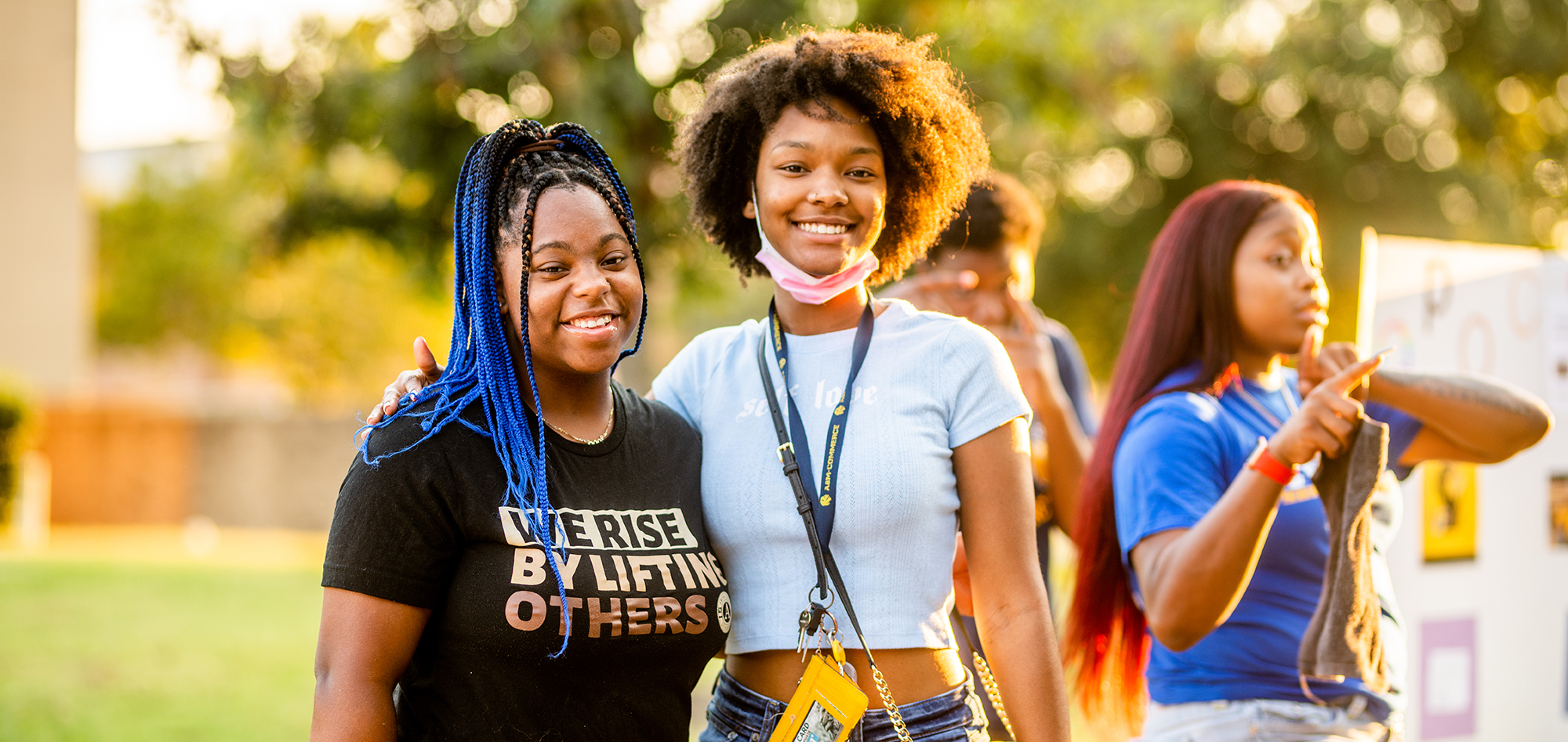 The JED Comprehensive Approach
JED Campus believes in a comprehensive, public health approach to promoting emotional well-being and preventing suicide and serious substance misuse. This model is used to assess efforts currently made on campus, identifying existing strengths and areas for improvement.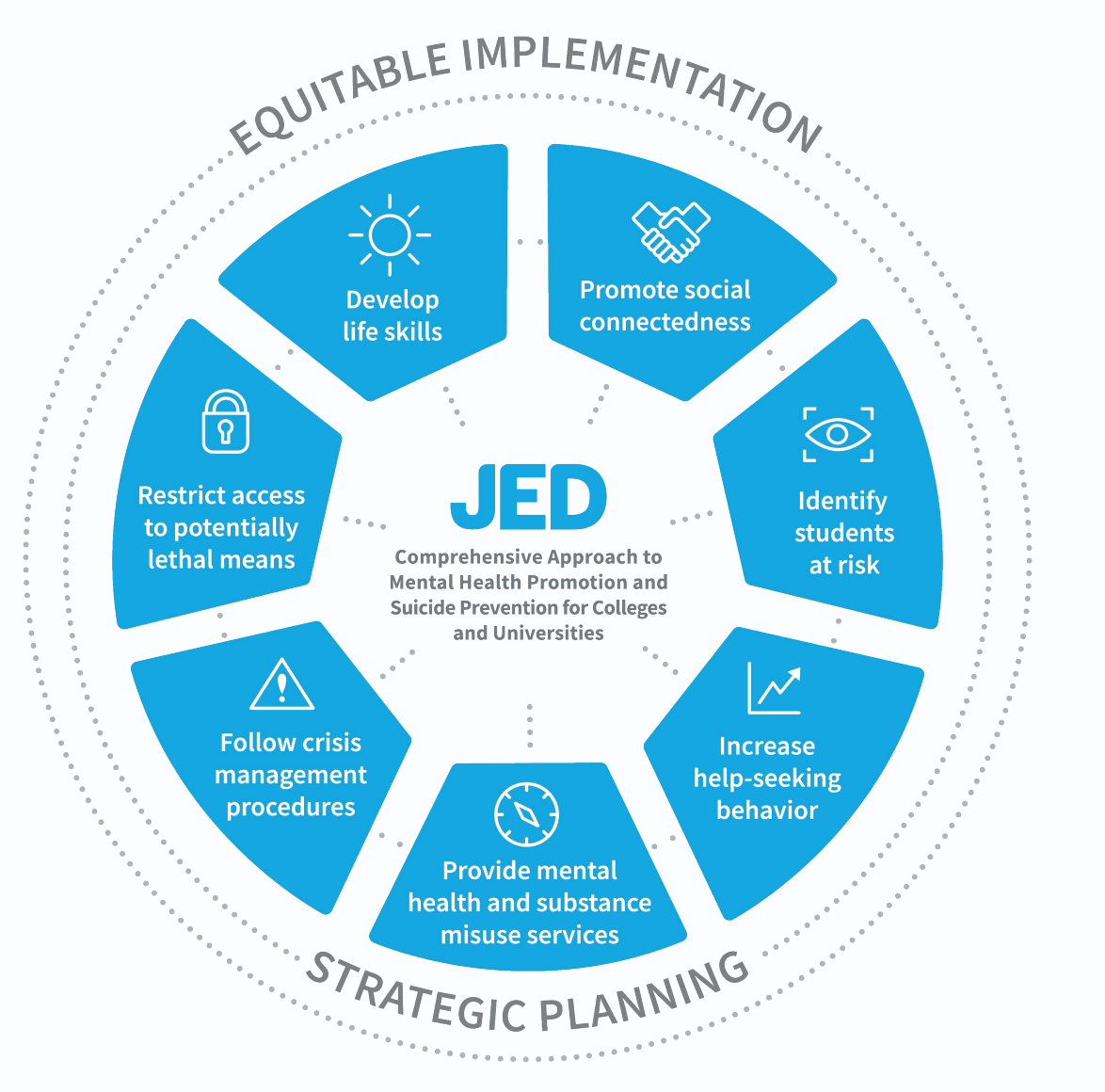 Develop Life Skills
Supporting life skills education is valuable in teaching healthy ways to cope with the stress of college life. Some of the life skills that are important to a student's well-being include managing friendships and relationships, problem solving, decision making, identifying and managing emotions, healthy living, and finding life purpose, meaning and identity.
Promote Social Connectedness
Research has shown that loneliness and isolation are significant risk factors for mental health problems and/or suicidal behavior. Therefore, supportive social relationships and feeling connected to campus, family and friends are protective factors that can help lower risk.
Identify Students at Risk
It is important to take action to identify students at risk for mental health problems and/or suicidal behavior, and also to promote emotional health awareness among those who interact with students the most — "gatekeepers" such as residence hall staff, academic advisors, faculty and even fellow students — as it is vital for these people to be able to recognize and refer a student who might be in distress.
Increase Help-seeking Behavior
Many students who need help may be reluctant or unsure of how to seek it out. Obstacles to help-seeking include lack of awareness of mental health services, skepticism about the effectiveness of treatment, prejudices associated with mental illness and uncertainty about costs or insurance coverage. Campuses should engage in a variety of activities designed to increase the likelihood that a student in need will seek help.
Provide Mental Health and Substance Abuse Services
It is essential to offer accessible, consistent and high-quality mental health services to students. To make mental health and substance abuse care more comprehensive, it should include strong and flexible services, adequate staffing levels and staff diversity reflective of the student population, flexibility in treatment approaches and clinic hours that are reflective of student schedules. Since most college clinics are free, the length of treatment is often limited. Therefore, it is important that campus mental health services can assist students in finding off-campus resources that can provide long-term care if needed.
Follow Crisis Management Procedures
The campus should have access to a well-publicized 24/7 crisis phone and/or chat line either through campus resources or local/national services. There should be a process in place to share information (as legally appropriate) between local ERs and school health and/or counseling services.
Restrict Access to Potentially Lethal Means
It has been well established that if the means to self-harm are removed or limited in an environment, it can prevent suicide and even limit accidental deaths. This is called "means restriction." Limiting students' access to weapons, poisonous chemicals, rooftops, windows or other high places are all means restriction activities. Each campus should do an environmental scan for potential access to lethal or dangerous means.
Advisory Group
The Counseling Center provided the leadership to begin this process in late 2018 in collaboration with the Offices of the Provost and Vice President for Academic Affairs, the Dean of Students, Residential Living and Learning, Campus Recreation, Rayburn Student Center, Student Health Services, and Student Disability Resources and Services.
The A&M-Commerce JED Campus team is chaired by Autumn Johnson, director of Campus Recreation. The team is comprised of the following faculty, staff and students.
Advisory Group Accomplishments
Developed strategic priorities with regard to student mental health and well-being
Creation of a JED Campus webpage to inform the campus
Trained the Student Success Teams to be front-line resources to identify student at risk
Enhanced the Behavior Intervention Team through training and the Student Case Management process with enhanced care reporting
Improved social connectedness on the campus with the creation of the Office of Student Engagement
Improved programming and support for underserved and potentially isolated students by enhancing the Office of Intercultural Engagement and Leadership
Improved the offering of suicide prevention training programs for both students as well as faculty and staff
Publicized the help-seeking toll free numbers and 24/7 access to crisis counseling throughout the campus and satellite campuses
Stressed the utilization of the Lion Safe App resource, available on the App Store and Google play.
Dramatically increased the number of psychological screenings offered
Creation of the A&M-Commerce Crisis Intervention Response Team and completed three-day intensive training for the team members
Provided greater access to psychiatric medication provider
Improved help-seeking behaviors on campus by reducing stigma associated with mental health care
Adopted an ongoing survey protocol to measure student well-being to allow for necessary service offering adjustments
The A&M-Commerce JED Campus Journey
The JED Campus four-year initiative was introduced to A&M-Commerce in fall 2018 as a way to support student well-being and mental health.
Spring
Researched processes to prioritize mental health as a campus-wide initiative.
Summer
Campus Life and Student Success Division offices under the leadership of the director of the Counseling Center formalized an agreement with the JED Foundation to become a JED Campus.
Fall
Organized the A&M-Commerce JED Campus Advisory Group with representation from 18 offices and departments.
Spring
The JED Campus baseline assessment was completed by the various offices and departments represented on the advisory group. The assessment measured systems, policies and programs, which will be followed in year four by a post-assessment measuring the change achieved during the program.
Healthy Minds Study baseline assessment measuring students' attitudes, behaviors and awareness on emotional well-being and substance use issues, followed in year four by the Healthy Minds Study post-assessment measuring the impact of JED Campus systems change on student outcomes.
The A&M-Commerce JED Campus advisory group received a comprehensive feedback report outlining areas for enhancement and growth. Our feedback report contained 74 items to consider covering the seven strategic priorities of JED Campus.
An on-campus visit with JED Campus staff to review the feedback, student data and recommendations.
Fall
The JED Campus advisory group continued to meet to formalize a strategic plan to complete the JED Campus work.
Spring
Autumn Johnson, director of Campus Recreation, and Dr. Nick Patras, director of the Counseling Center, appointed as A&M-Commerce JED Campus advisory group co-chairs.
Formed three subcommittees to begin the JED Campus strategic plan.

Increasing Help-Seeking Behaviors, chaired by Alexis Duggan of Student Disability Services.
Identifying At-Risk Students, chaired by Marcy Louis of Student Rights and Responsibilities.
Social Connectedness, chaired by Amanda Horne of Fraternity and Sorority Life.

A fourth committee, Communications, was added with Jonathan Johnston of Campus Recreation as chair.
Check back for updates on our progress!
Check back for updates on our progress!
Contact Us
Halladay Student Services, 203