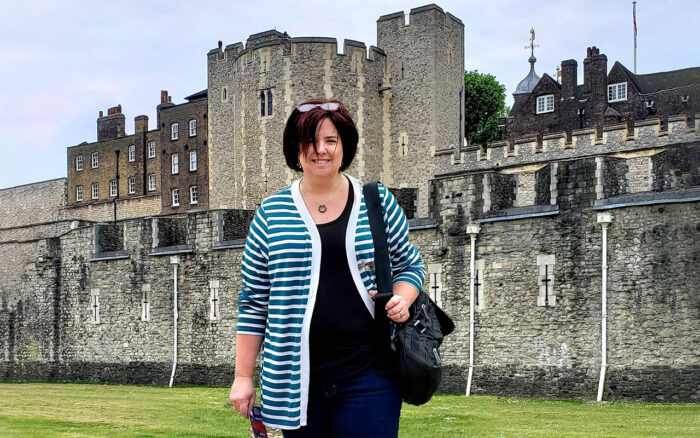 Humans are inherently storytelling creatures. This is our refrain. This is how we know who we are–as individuals, as communities, as a nation, as a world.
Professor
Office
David Talbot Hall of Languages 141
Related Department
Literature and Languages

Reclaiming lost and white-washed stories of marginalized people is not only Shannon Carter's academic aim but her life passion. When her family moved from California to Greenville, TX in the late 70s, she witnessed an innocent Black man go to prison for a crime he didn't commit. This event inspired her to dig deeper into race as an arbitrary categorization for sorting justice. Carter's career has lead to numerous projects which recover and circulate these narratives, including her current work "The New-Deal Era Federal Writers' Project: History, Accomplishments, Cultural Legacy," a four-week institute she's co-directing with Deborah Mutnick to be held in Brooklyn, NY, Summer 2021 (funded by the National Endowment for the Humanities).
A Conversation with Dr. Shannon Carter
What has been your favorite course to teach?
"It is impossible to pick just one favorite, however, I'm inspired by the brilliant work happening in ENG 585: Texas Counterstories for Black Liberation. In this course, we're harnessing the power of (counter)stories to (re)write America's collective story, a narrative that has (mis)represented, erased, silenced and ignored far too many for far too long. Historically, representations of race in the dominant narratives about our nation have systematically robbed Black, Indigenous, and People of Color (BIPOC) of their humanity. It's time. Enough. I know you're with me on this. I know you 'get' it."
Tell us about an academic project you are working on or recently completed.
"Deborah Mutnick (LIU Brooklyn) and I were awarded a National Endowment for the Humanities grant to codirect a 4-week summer institute scheduled for July of 2021 at the LIU Brooklyn campus. During this institute, The New Deal Era's Federal Writers' Project: History, Politics, and Legacy, 25 college and university faculty will study the Federal Writers' Project (FWP), an archive of more than 2,000 interviews with the last generation of formerly enslaved Americans, migrants, workers, women, and men to chronicle the Great Depression. These interviews were conducted as part of FDR's Works Progress Administration as part of the New Deal during the Great Depression and fought to uncover the stories of everyday people. We are thrilled to bring the history and achievements of the FWP to new audiences, aided by a remarkable group of historians, literary critics, and scholars of writing."
Educational Background
Ph.D., Rhetoric, Texas Woman's University, 2001
M Ed, Education, University of North Texas, 1996
BA, English, Texas A&M-Corpus Christi, 1993
Honors and Awards
"Best Public Intellectual Special Issue" for Community Literacy Journal, CELJ (Council of Editors of Learned Journals) , 2013
Conference on Basic Writing Fellowship, 2003
Paul W. Barrus Distinguished Faculty Teaching Award, Texas A&M University-Commerce, 2008
Dean Bishop Award for Excellence in Teaching, Texas A&M University-Commerce, 1999
Research Interests
Racial Justice
Prison Literacy
The New Deal Era's Federal Writers Project
Evangelical Rhetoric
Featured Courses
Selected Publications
Carter, Shannon. The Way Literacy Lives: Rhetorical Dexterity and the "Basic" Writer. Albany, NY: State University of New York Press, 2008.
Carter, Shannon, Deborah Mutnick, Jess Pauszek, and Steve Parks, Eds. Writing Democracy: The Political Turn in and Beyond the Trump Era. Routledge Press, August 2019.
Carter, Shannon. "Pass the Baton: Racial Justice: Lessons from Historic Examples of the Political Turn 1967-68." (for The Political Turn). Routledge, 2019