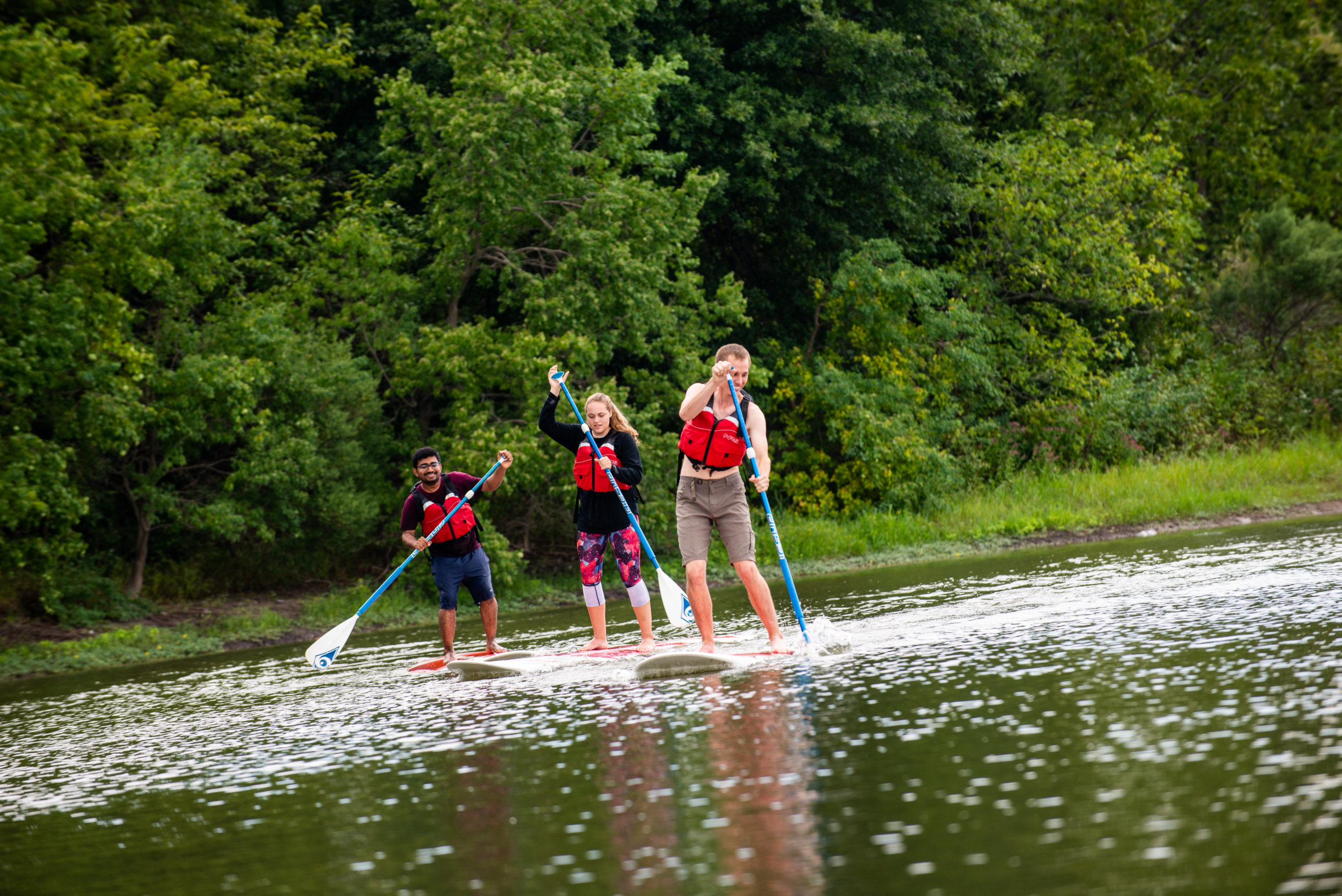 Discover the Outdoors
No matter your level of familiarity with outdoor activities, we are here to guide and help you explore the vast possibilities the great outdoors offers.
Participation Benefits
Develop leadership and group skills
Improve environmental wellbeing
Increase academic success
Experience something new
Build new and lasting connections
Increase confidence and self-esteem
Campus Recreation Outdoor Adventure :: Campus Recreation: Trips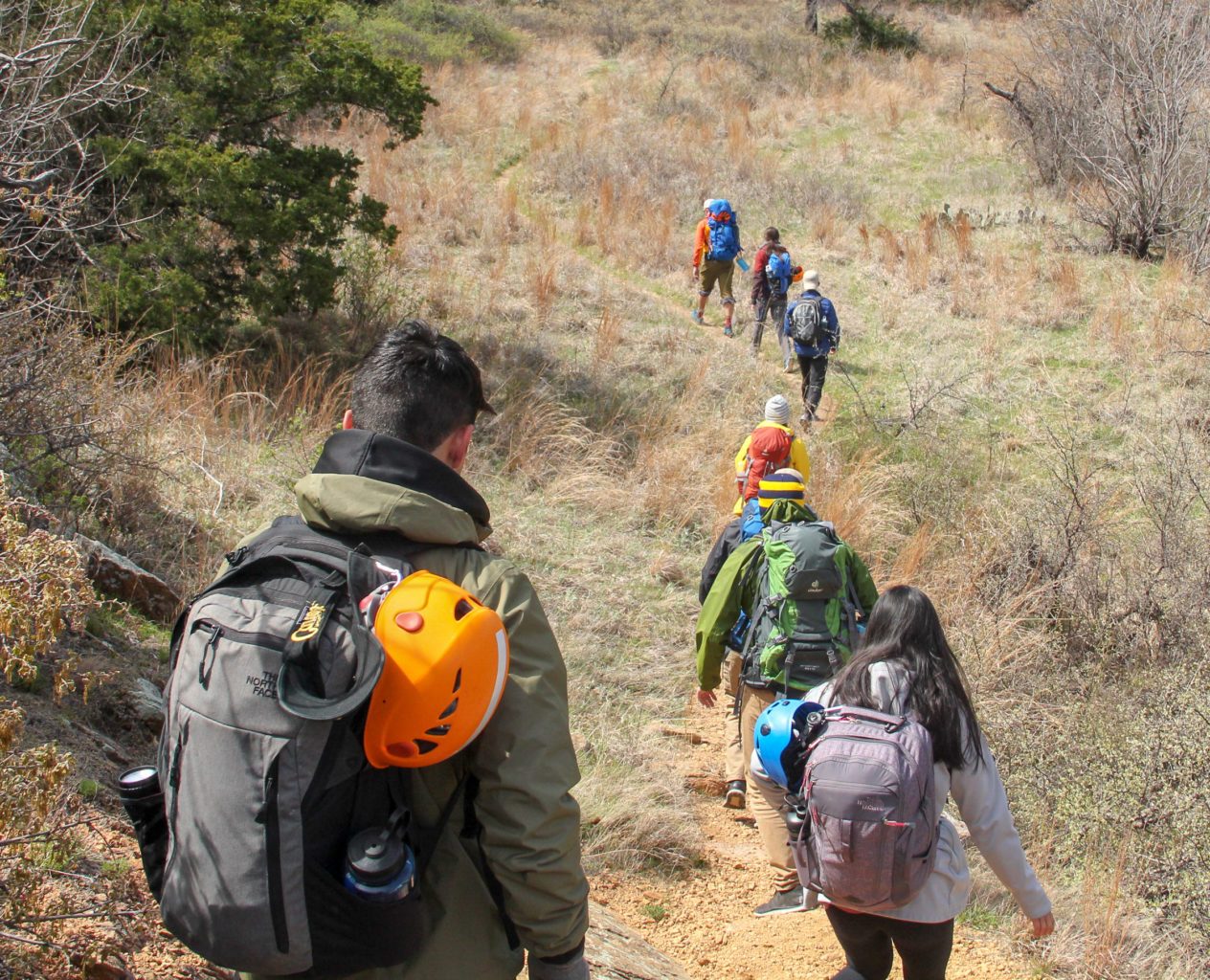 Trips
Outdoor Adventure offers several day or overnight trips throughout the semester, ranging from hiking and fishing trips to mountain biking and climbing trips.
Trip Details
Sign up for trips at the Morris Recreation Center, the Outdoor Adventure Center, or online.
Trip locations are subject to change.
The cost listed is for students and Campus Recreation members. Trip priority goes to students.
Trips are non-refundable.
Trip registration opens the second week of the semester.
Our trips require participation in pre-trip meetings and/or skills sessions prior to the trip. This is to ensure participants are adequately prepared for the trip activities. If you are unable to complete the requirements before the trip, you will forfeit your spot with no refund.
For more information, see our scheduled trips on the Community Calendar.
If you have questions about any of the trips, please email [email protected]
Back to menu
Types of Classes
Are you ready to improve your biking skills? This class is beneficial for any skill level. We provide mountain bikes, helmets, water bottles and gloves. We will begin with skill improvement drills and end with a ride on our mountain bike trail, putting all your newly developed skills to the test. It is also a great way to get ready for your next mountain biking trip.
Welcome to the climbing community! These lessons will allow you to dip your toes into the world of rock climbing. We will teach you proper rock climbing techniques, how to belay, and answer any questions you might have about climbing in general. There will also be time at the end of the clinic to certify you to belay at our wall. There is no experience or gear necessary. We look forward to seeing you at the climbing wall.
This class will give you the knowledge and skills to go out on your own and catch some trout on a fly fishing rod and reel. We will go over all the equipment you will use and then spend time learning how to cast a fly rod.
This class is a great opportunity to practice your paddling skills before you go out into the great outdoors. We will provide the kayaks, life jackets, paddles, and instruction. If you have never kayaked, or just want a chance to brush up on your skills, this class is for you.
Outdoor Adventure Center
Outdoor Adventure Center
Discover your adventurous side by playing disc golf, challenging yourself on the high ropes course, or biking on the trail.
Our knowledgeable staff is here to help you with anything you need to get outdoors, including renting out tents, camp stoves, sleeping bags, backpacks, kayaks and canoes. Need to fix a flat tire on your bike or get a tune-up? Our bike mechanics can fix it for you.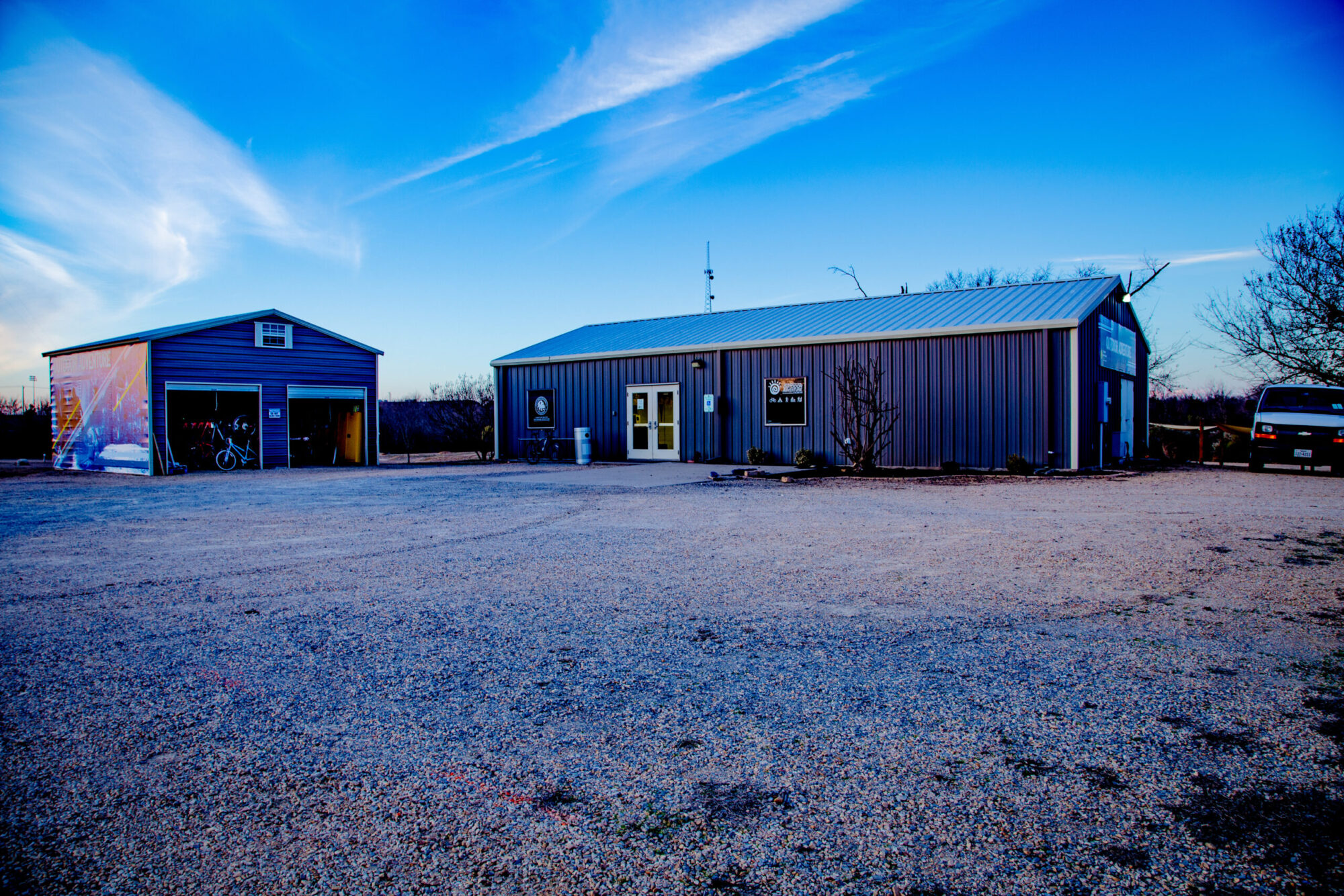 Gear Rental and Prices
| | | | |
| --- | --- | --- | --- |
| Camping Equipment | Day Rental | Weekend rental | Week Rental |
| Bike Rental | $15 | $25 | $30 |
| Tent (2 Person) | $6 | $12 | $24 |
| Tent (3 Person) | $7 | $14 | $28 |
| Tent (4 Person) | $10 | $20 | $40 |
| Tent (5 Person) | $12 | $24 | $48 |
| Sleeping Bag | $4 | $8 | $16 |
| Sleeping Sack and Pad | Free w/ sleeping bag | Free w/ sleeping bag | Free w/ sleeping bag |
| Back Pack | $8 | $16 | $30 |
| Stove (2 Burner) | $5 | $10 | $20 |
| Mess Kit | $3 | $6 | $9 |
| Hiking Poles | $5 | $10 | $15 |
| | | | |
| Boats and Equipment | | | |
| Kayak (Single) | $12 | $25 | $50 |
| Kayak (Tandem) | $15 | $30 | $60 |
| Canoe | $15 | $30 | $60 |
Back to menu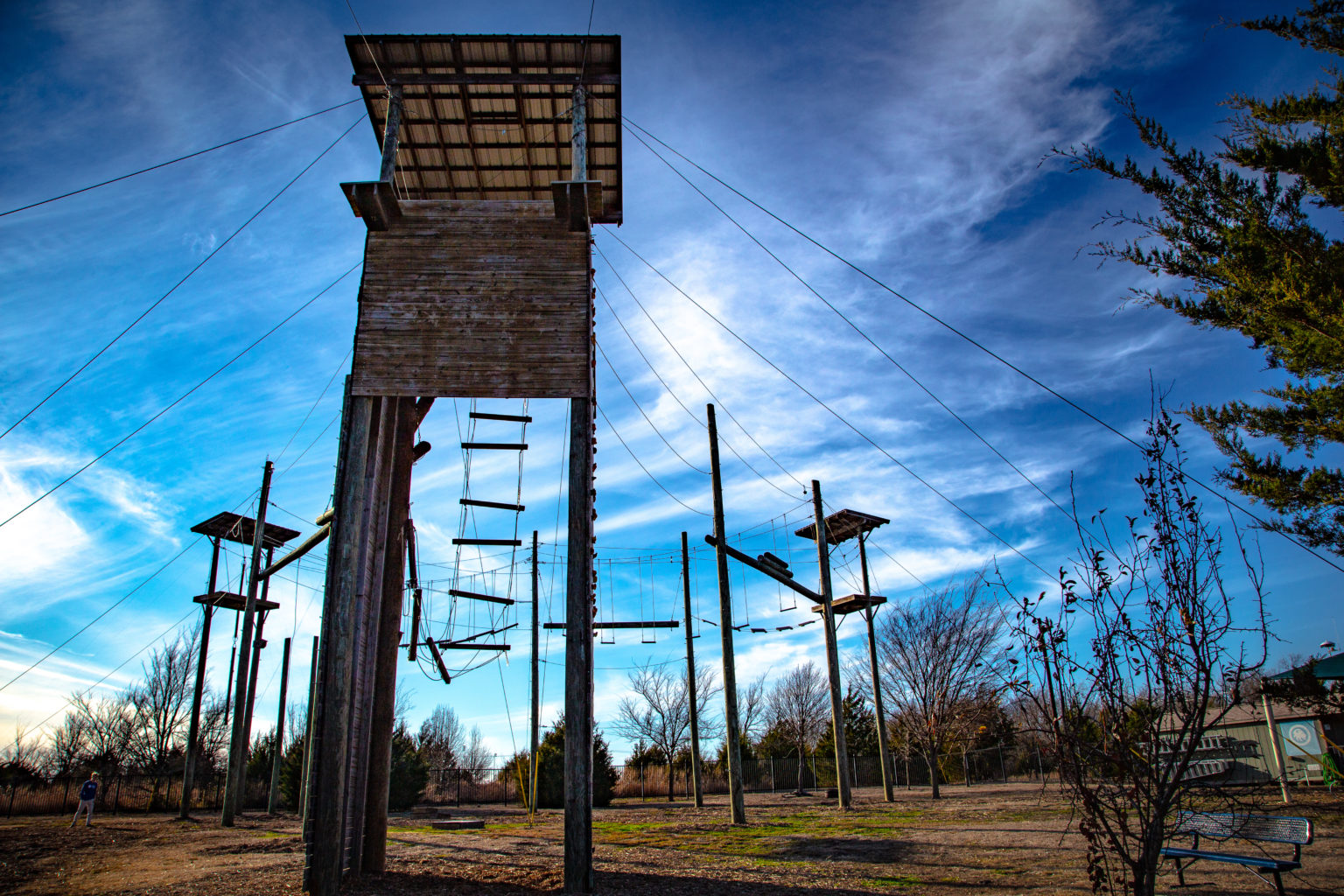 Outdoor Adventure: Facilities
Challenge Yourself On Campus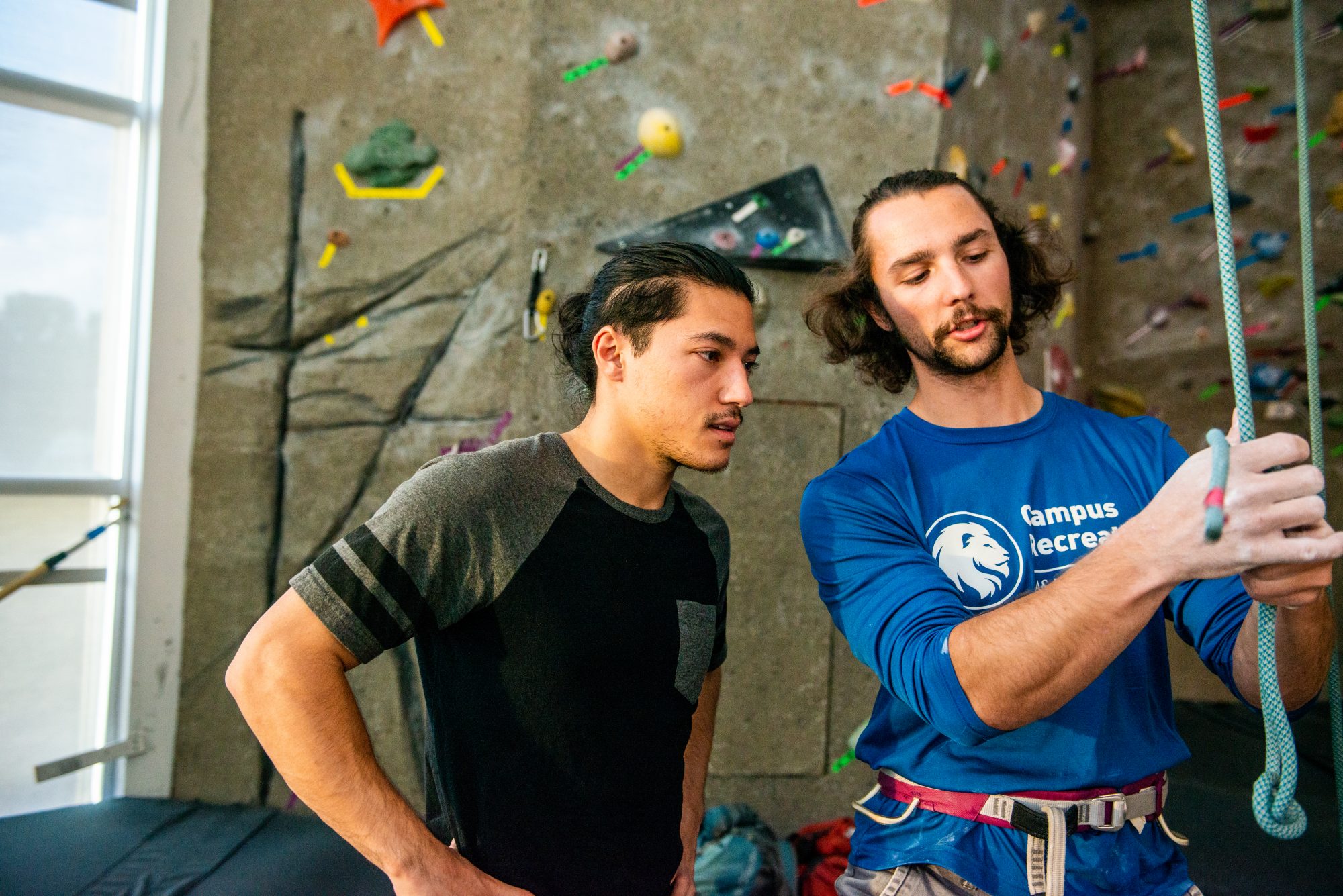 Climbing Wall
The climbing wall is a great way to learn a new skill, improve your current skills, and make new friends. The first wall is our 45-foot climbing wall with four auto-belay stations and 13 manual belay set-ups. The second wall is our 12-foot boulder wall, containing over 40 climbing problems. Both walls have a wide variety of route difficulties suitable for beginner to advanced climbers and everything in between.
You need no previous experience to climb the wall and all equipment needed is included at no extra cost. Our knowledgeable staff is happy to answer any questions, teach you everything you need to know about climbing and provide an engaging educational experience.
Please fill out a waiver prior to visiting. A parent or guardian must sign your waiver if you are under 18.
Disc Golf Course
Our 18-hole disc golf course is located at the Outdoor Adventure Center. We have a limited number of discs available for students to check out. The course features a mixture of long-open fairways to short-technical holes and weaves through a thick forest surrounding the challenge course. There are 36 concrete tee pads and 36 basket positions that are rotated monthly. The fairways are open to the public to play or walk.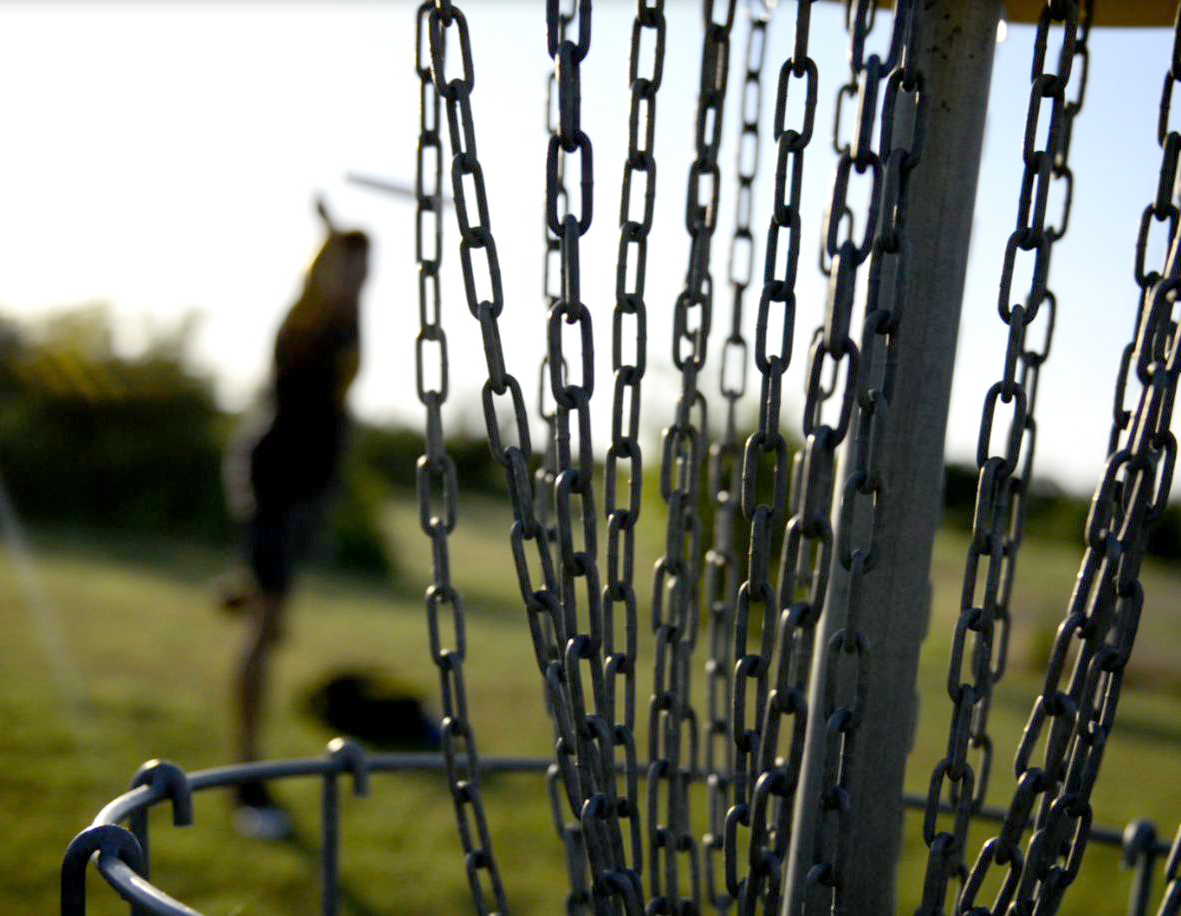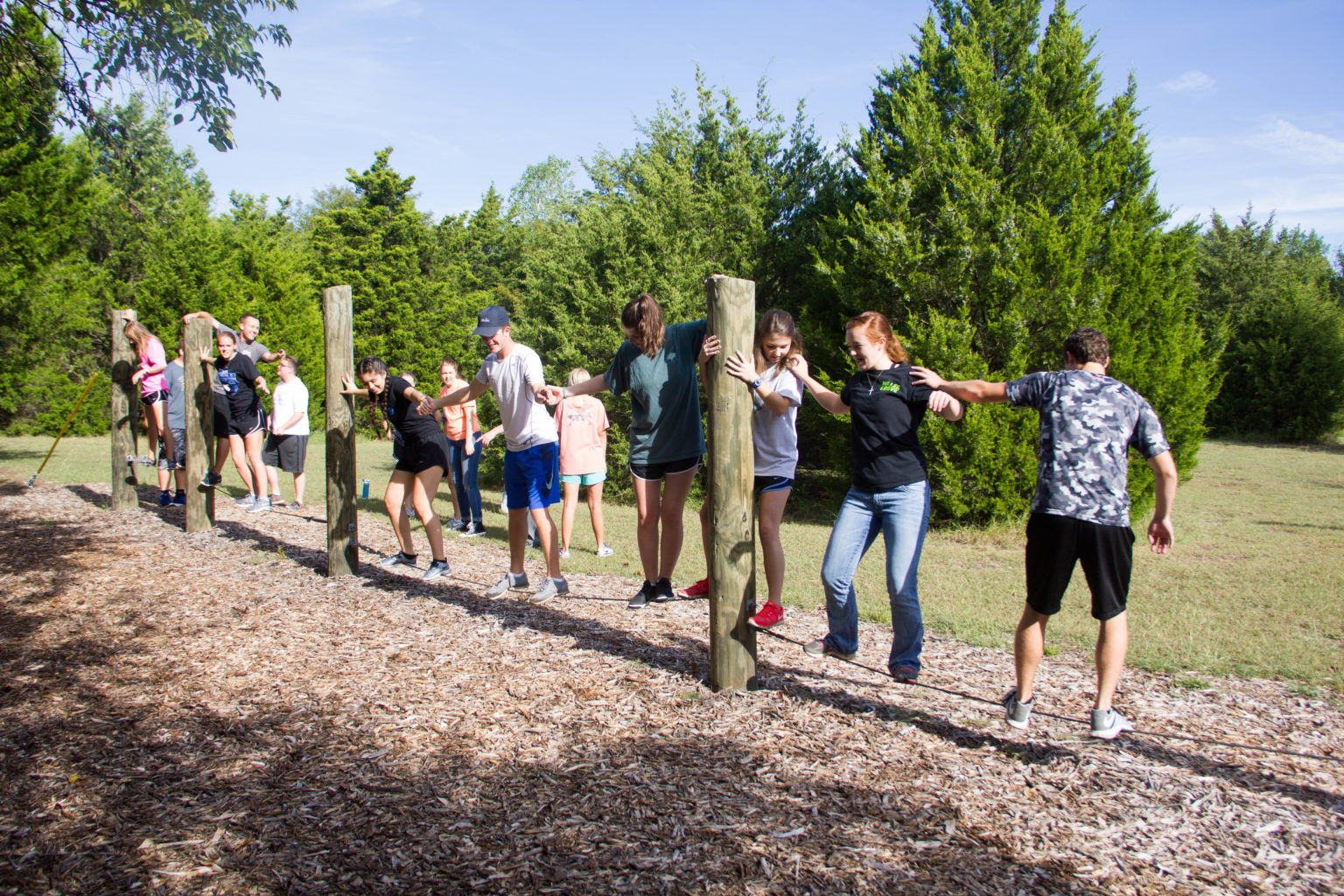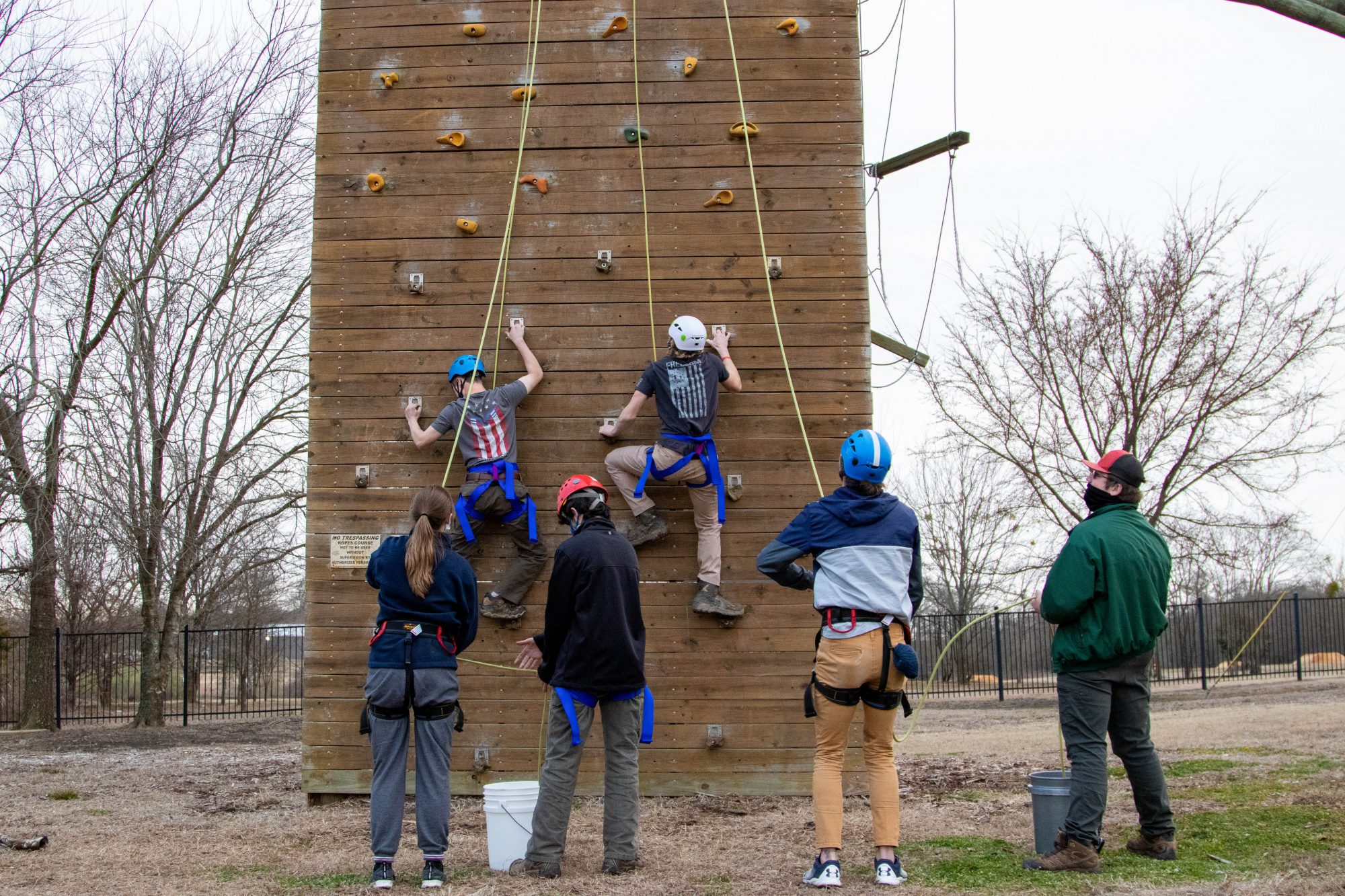 Challenge Course
The challenge course offers adventure-based learning opportunities to enhance leadership, decision-making, and communication skills through an interactive process for team building. This hands-on approach is designed to help individuals learn from their interactions with others and then apply those principles to their life situations.
We have two element types on our course, low and high. Low elements are activities that take place lower to the ground that requires the group to work together to accomplish a task. High elements are activities that take place up to forty feet off the ground and are designed to challenge people to step out of their comfort zone and allow the group to encourage others to do the same. Our most popular are dual zip line, a leap of faith, and giant swing.
We offer three different types of experiences. A full day consists of two, three-hour sessions including low elements in the morning and high elements in the afternoon. Then a half-day experience is about four hours and consists of low and high elements. Our last option is a 2-hour session of only low elements.
A&M-Commerce student groups are free. Contact Ben for costs for external groups.
Hike and Bike Trails
The trail is located on the south side of Culver across from the Outdoor Adventure Center and just west of Cain Sports Complex. The trail is open to the public and provides scenic fitness opportunities away from busy streets. The Outdoor Adventure Center offers free bike rental for day use on the trail, clinics, and group rides to help develop good mountain biking skills and connect groups of bikers.
The 4-mile circuit is comprised of four different loops and is designed for both bicycle and pedestrian traffic. The distances of each loop are approximate:
Field Loop- 1.1 miles (Green)
Creek Loop- 1.3 miles (White)
Inner Loop- .7 miles (Red)
Main Loop- 1 mile (Blue)
Hours of Operation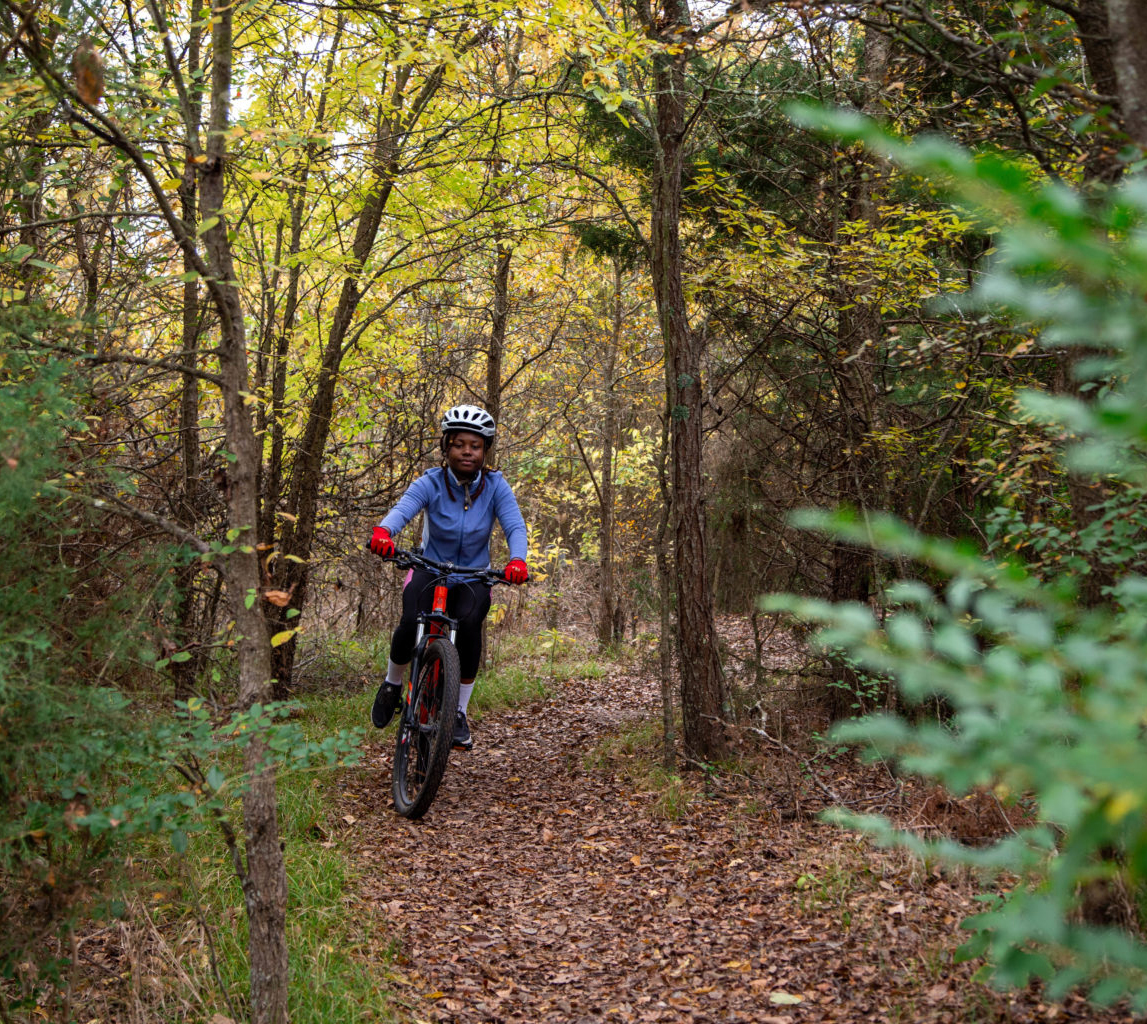 Know before you Go
We may close the trail when it is too wet or muddy for use. Our trail is in a low-lying flood plain and has clay-based soil. This can lead to some significant time of trail closure while the trail dries out, especially in the winter months. We love using the trail and get it open as quickly as possible, but we close it to protect the trail for future users. If the trail gets footprints and bike tire tracks in it while it is wet it will lead to significant erosion issues and cause lasting damage. Trail status updates can be found on our Facebook page as well as Mountain Bike Project.
Waiver: All trail users must have a signed waiver on file. Once the waiver is filled out one time it does not need to be filled out again. There are blank waivers at the kiosk at the trailhead and a mailbox to put the completed waivers in. You can also fill out a waiver at the Outdoor Adventure Center.
Register every visit at the trailhead kiosk.
Hike or Bike: The trail has been professionally designed for both bicycle and pedestrian traffic. Many people use the trail as a place to walk and jog away from busy streets. No motorized vehicle or equine use is allowed on the trail.
Ride Open Trails: Respect trail closures. Do not trespass on private land.
Dogs: Must be kept on a leash at all times. If they poop, you scoop.
Leave No Trace: Be sensitive to the dirt beneath you. Wet and muddy trails are more vulnerable to damage than dry ones. When the trail is soft, consider other riding options. This also means staying on existing trails and not creating new ones. Don't cut switchbacks. Be sure to pack out at least as much as you pack in.
Control Your Bicycle: Inattention for even a moment could put yourself and others at risk. Ride within your limits.
Yield Appropriately: Do your utmost to let your fellow trail users know you're coming — a friendly greeting or bell ring are a good method. Try to anticipate other trail users as you ride around corners. In general, strive to make each pass a safe and courteous one.
Never Scare Animals: Animals are easily startled by an unannounced approach, a sudden movement, or a loud noise. Give animals enough room and time to adjust to you. Running cattle and disturbing wildlife are serious offenses.
Plan Ahead: Know your equipment, your ability, and the area in which you are riding, and prepare accordingly. Strive to be self-sufficient: keep your equipment in good repair and carry necessary supplies for changes in weather or other conditions. Always wear a helmet and appropriate safety gear. Participation can be hazardous.
Organized events and activities: Must be scheduled with Outdoor Adventure.
No motorized vehicle or equine use is allowed on the trail system.
Concerns or emergencies: If you have trail concerns, contact Outdoor Adventure at 903.886.5164. If it's an emergency, contact UPD at 903.886.5111 or 911. If it's a non-emergency, contact UPD non-emergency at 903.886.5868.
Back to menu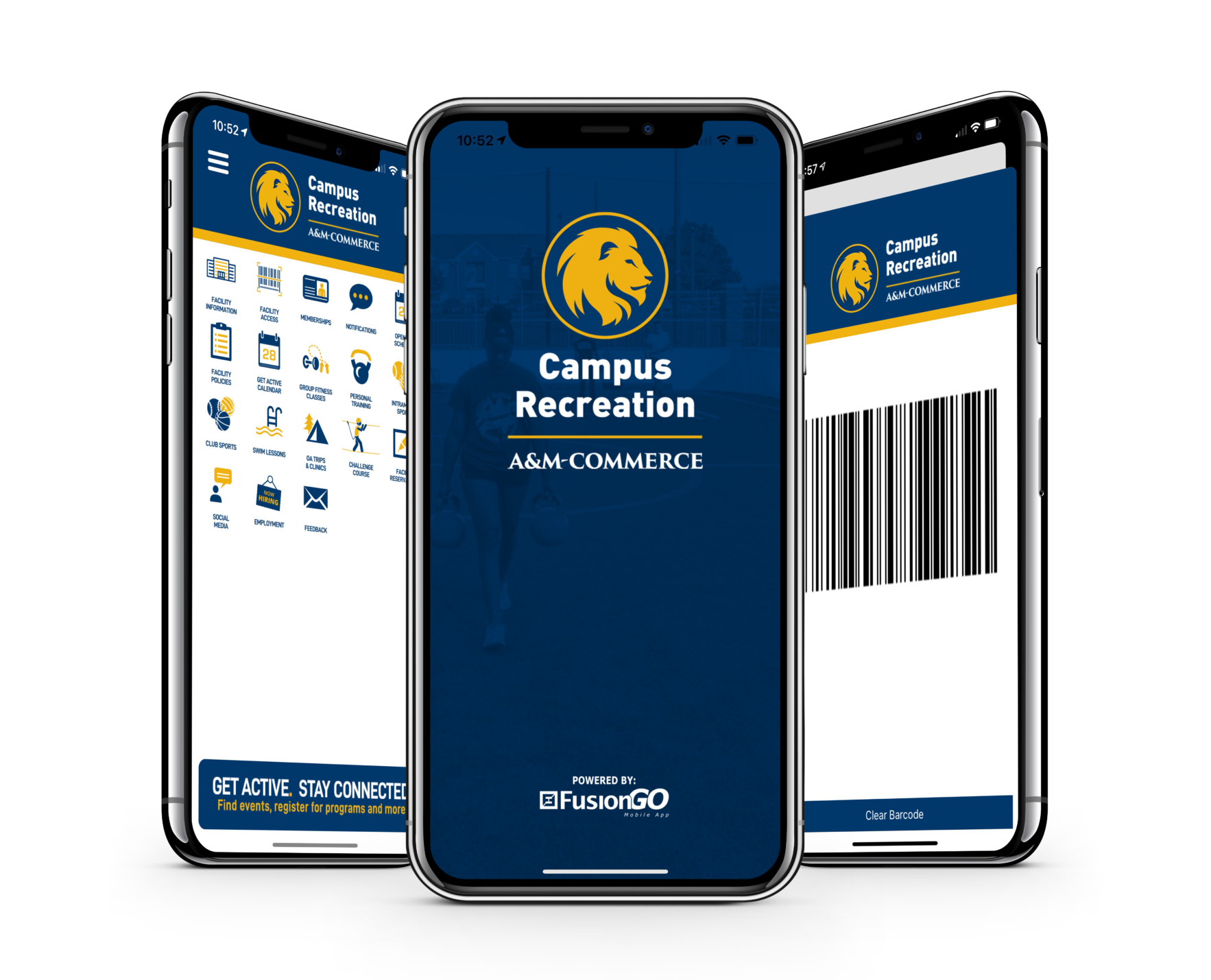 Campus Rec APP
Download the new TAMUC Campus Rec App on your app store and register for our programs at the touch of your finger! Powered by Innosoft Fusion, the app lets you sign up for group fitness classes, register for recreation programs, and even scan into the MRC directly from your phone.
MEet the Outdoor Adventure team
START YOUR ACTIVE JOURNEY!
Contact Us
2320 TX-178 Loop
Commerce, TX 75428