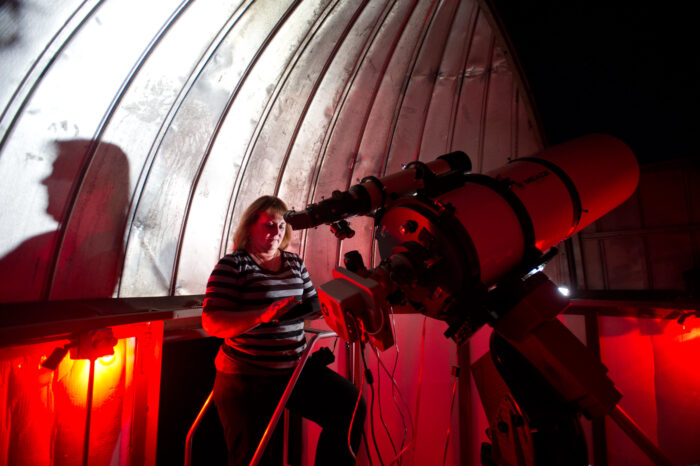 As director of the A&M-Commerce Planetarium and Observatory, my job is out of this world!
Cheri Davis, Ed.D.
Professional Track Faculty and Planetarium Director
Physics and Astronomy
Office
Science Building 148
As director of the A&M-Commerce Planetarium and Observatory, Cheri Davis, Ed.D., has a job that is out of this world! Davis also enjoys teaching pre-service science classes, astronomy classes and signature courses.
A Conversation with Dr. Davis
What would you tell a student who is thinking about attending A&M-Commerce?
A&M-Commerce is a great university! We have a wide variety of faculty from all over the United States and the world.
Tell us about a project you are currently working on or recently completed.
While the campus was closed during the COVID-19 pandemic, we took advantage of the time to make much-needed upgrades to the Planetarium. The facility has recently undergone a full system upgrade; now running a Digistar7 system by Evans & Sutherland. This allows the viewer to enjoy amazing sights and sounds while visiting the facility. We were also able to install new carpet and seats; the first change since the building opened in 2006. We now have a seating capacity of 81.
Educational Background
Ed.D., Educational Leadership, Texas A&M University-Commerce, 2013
M.S., Broadfield Science, Texas A&M University-Commerce, 2005
B.S., Interdisciplinary Studies, Texas A&M University-Commerce, 2004
Grants
$570,782, NSF Grant PASS: Physics and Astronomy Scholarships for Success, May 1, 2016-April 30, 2016
$518,000, TAMU-C Planetarium Renovation/upgrade planetarium system to Evans & Sutherland's Digistar 5, DLP projector, 2013
$28,888, National Space Grant Foundation, Aerospace Educational Services Project-AESP Grant-Explorations of the Solar System, 2010
Awards and Honors
Chancellor's Academy of Teacher Education, The Texas A&M University System
President's Meritorious Service Award, Texas A&M University-Commerce
NASA Texas Space Grant Fellowship
Professional Organizations
NASA Texas Space Grant Consortium Representative
Southeastern Association for Research in Astronomy (SARA)
American Astronomical Society (AAS)
American Physical Society (APS)
Association for Supervision and Curriculum Development (ASCD)
Association of Texas Professional Educators (ATPE)
Digistar Users Group (DUG)
International Planetarium Society (IPS)
National Science Teachers Association (NSTA)
Science Teachers Association of Texas (STAT)
Metroplex Technology Business Council (MTBC)
Selected Publications
Davis, Margaret Cheri. Mathematics and Science Education Attrition, Retention, and Migration: A Study of Three Urban School Districts in the State of Texas, Order No. 3595285 Texas A&M University-Commerce, 2013 Ann Arbor ProQuest. 15 Oct. 2014.
Montgomery, K.A., Davis, C., Renshaw, T., & Rolen, J., Photometric Study of 5 Asteroids at A&M-Commerce Observatory, Minor Planet Bulletin, 2013.
Important Links
Around Texas with Chancellor John Sharp
Watch season 2, episode 8 featuring the Planetarium at A&M-Commerce. Be sure to like and subscribe!
Lunar Explorations
Exploration of the Solar System
AESP
NASA Education Sandbox 2008
TSGC