Barrett Radziun, DMA
Instructor of Voice and Diction
Music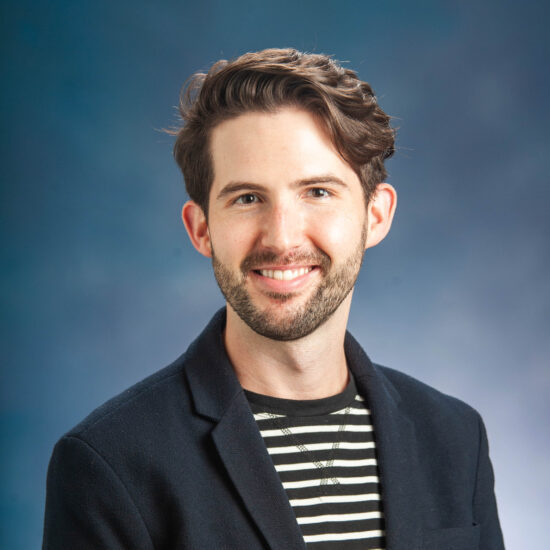 College Major
Vocal Performance
Barrett Radziun reaches audiences by combining his "silvery tenor" (The Berkshire Edge) with a stage presence that is "elegant and profound…with poise and maturity that betrays his youth" (The Berkshire Edge).
Critics hail the Minnesota native as "brilliant in his solo performances" (Cleveland Classical), "effortless in rendering sensitivity" (Boston Musical Intelligencer), and as a "rising star" (The Millbrook Independent).
Dr. Radziun made his New York City debut at the Morgan Library in a program titled First Songs: Dawn Upshaw and the Bard Graduate Vocal Arts Program World Premieres, performing works by Aaron Jay Kernis and Bard Colleague Martínez de Velasco. Dr. Radziun also shared the stage of the Richard B. Fisher Center for the Performing Arts with Ms. Upshaw, his mentor, in a program titled Dawn Upshaw and Friends: A Winter SongFest, singing works by Rogers & Hart and Marc Blitzstein. As a chamber musician, Dr. Radziun has been heard in performances of Britten's Canticle Still Falls the Rain, Messiaen's La Mort du Nombre, and various chamber works of J.S. Bach.
Dr. Radziun's passion for community engagement has led him to sing in recitals for the Beattie Powers Concert Series (Catskill, NY), the Hudson Valley Chamber Music Society (Bard College), the Piano Plus! Concert Series (curated by composer George Tsontakis), and at the Woodbourne Correction Facility, a medium security men's prison in Woodbourne, NY. He co-created In Thanksgiving: Music of Need and Nourishment, a benefit recital sponsoring a local food bank in the Hudson Valley. In order to share music with people it would not normally reach, Dr. Radziun contacted the Bard Prison Initiative and made arrangements to perform the recital within the prison walls.
As an ensemble singer, Dr. Radziun currently performs with Orpheus Chamber Singers, Verdigris Ensemble, the Tennessee Chamber Chorus, and the South Dakota Chorale, the latter with whom he has recorded, Marcel Tyberg: Music Lost in the Holocaust on the Pentatone label, 2016.
Educational Background
DMA, Vocal Performance, University of North Texas, 2017
M.M., Vocal Performance, Bard College-Conservatory of Music, 2013
B.M., Vocal Performance, University of Northwestern-St. Paul, 2010
Academic Positions
Instructor, Voice Music, Texas A&M University-Commerce, 2017-Present
Instructor, Voice Music, University of North Texas, 2014-2017
Awards and Honors
Recipient, Teaching Fellowship, University of North Texas, 2014-2017
Recipient, Toulouse Graduate School, Academic Achievement Scholarship, 2014-2016
Recipient, Vocal Arts Fellowship, Tanglewood Music Center, 2015
Recipient, Vocal Arts Fellowship, Bared College Conservatory of Music 2011-2013
First Place, Thursday Musical Competition, University of Saint Thomas, 2011
First Place, University of Northwestern, St. Paul Aria Competition 2010
Second Place, NATS Competition, Saint John's University, 2010
Finalist, The Schubert Club Scholarship Competition, St. Paul, 2010-2011
Recipient, Oliver Mogck Outstanding Male Vocalist Scholarship, 2007-2010
Solo Orchestral Performance
Dallas Bach Society, Phoebus in Purcell's The Fairy Queen, 2017
University of North Texas Collegium Singers and Baroque Orchestra, Tenor Soloist in Abendmusiken, featuring works by Tunder, Buxtehude, Weckmann, 2017
University of North Texas Collegium Singers and Baroque Orchestra, Tenor soloist in J.S. Bach's St. John Passion, 2017
Austin Baroque Orchestra, Evangelist in J.S. Bach's St. John Passion, 2017
University of North Texas Concert Orchestra, Tenor soloist in Haydn's Missa Cellensis, 2017
The Enid Symphony Orchestra, Tenor soloist in A Tribute to the Music of Rogers & Hammerstein and Andrew Lloyd Webber, 2017
University of North Texas Collegium Singers and Baroque Orchestra, Tenor soloist in Delalande's Super Flumina Babylonis, 2016
University of North Texas Concert Orchestra, Tenor soloist in Heroes and Villians of the Stage: A Gala Concert, 2016
University of North Texas Grand Chorus, Uriel in Hyadn's Creation, 2016
Featured Courses
MUS 152 Principal Applied Voice
MUS 352 Principal Applied Voice
MUS 352 Principal Applied Recital
MUS 352 Applied Music: Recital
MUS 403 Vocal Production
Selected Music Festivals
Boston Early Music Festival, Fringe Concert Performance, 2017
National Collegiate Choral Organization Conference, 2015
Tanglewood Music Center, Vocal Arts Fellow Recipient, 2015
Boston Early Music Festival, EMA Young Performer's Festival, 2015
Amherst Early Music Festival, Connecticut College, 2012
Accademia d'Amore, Cornish College of the Arts, 2011-2012
Oberlin Baroque Performance Institute, Oberlin College-Conservatory of Music, 2010
Tallis Scholars Summer School, Seattle University, 2010
Hawaii Performing Arts Festival, 2009
SongFest, Pepperdine University, 2008-2009