Allan Goodwin
Associate Director of Bands, Director of "The Pride" Marching Band
Music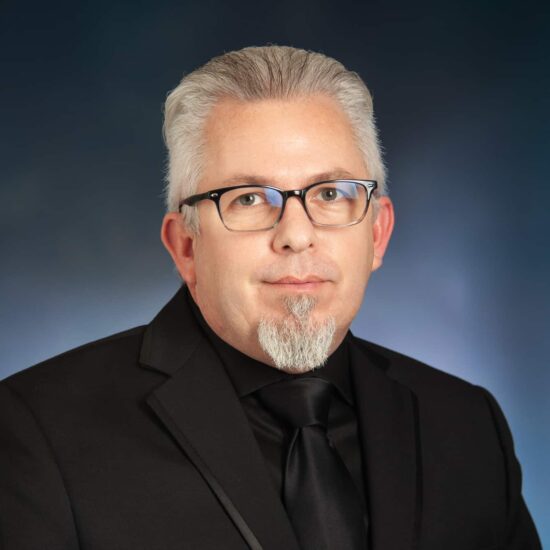 Office
New Music Building 191
Allan Goodwin additionally serves as the Director of the "Pride" Marching Band, oversees all athletic bands and is the principal conductor of the Symphonic Band. Mr. Goodwin teaches courses in secondary music education, conducting and marching band techniques.
Mr. Goodwin is the director of the A&M-Commerce Summer Music Camp Series, which includes the leadership, drum major and color guard camps (in partnership with System Blue), The Texas Summer Flute Symposium, The All State Choir Camp, The Texas Vocal Arts Workshop: a Singer/Actor Intensive, and Blast of Brass. Mr. Goodwin is also the director of the Marching Arts Director Symposium, a three-day workshop for high school band directors from Texas, Oklahoma, Arkansas and Louisiana, which has offered instructional sessions with Dr. Tim Lautzenheiser, David Gibbs, Wayne Downey, Todd Ryan, Amanda Drinkwater, Bill Watson, Frank Troyka, JJ Pipitone and Phillip Clements, among others.
Prior to accepting this position, Mr. Goodwin served for ten years as Director of Bands at Sachse High School in the Garland Independent School District. Mr. Goodwin has also been part of the band staff at Naaman Forest High School and served as Supervisor of Instrumental Music and Director of Bands for the Ponca City Public School System, in North Central Oklahoma.
A native of Columbus, Ohio, Mr. Goodwin served as a director, drill designer and arranger for the university of UT "Sound of the Golden Hurricane" Marching Band, coordinator of athletic bands, conductor of the Concert Band and brass choir, and as an instructor in brass pedagogy. His principal teachers include Robert Winslow, Dennis Fisher, Gerald Siverson, Ken Grass and Wayne Downey. He has hosted symposia and honor band events with conductors including Ray Cramer, Gary Green, Alan McMurray, Steven Davis, Kevin Sedatole, Paula Crider, Richard Floyd, Jack Delaney, and Matthew McInturf, among others.
Educational Background
MME, Conducting, University of Tulsa – Henry Kendall College of Arts & Sciences School of Music, 1997
B.M., Music Education, University of North Texas – College of Music, 1993
Professional Memberships
Featured Courses
MUS 310 – Music Education Technology
MUS 404 – Marching Band Technique
MUS 414 – Conducting II
MUS 419 – Instrumental Organization I
MUS 420 – Instrumental Organization II