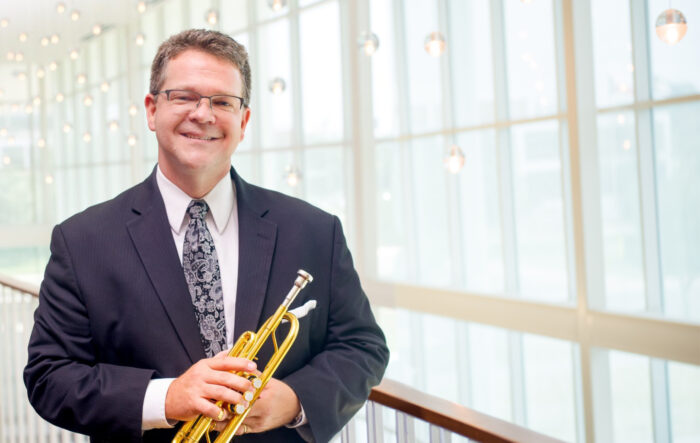 The one-on-one aspect of music study is my favorite part of the job.
Daniel Kelly, DMA
Professor, Trumpet
Music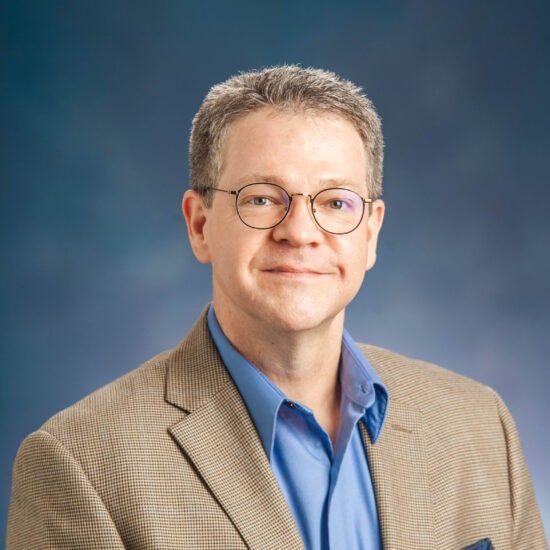 Office
Music Building 223
Daniel Kelly, a native of Charleston, SC, joined Texas A&M University-Commerce in the fall of 2010 after serving on the faculty of Indiana State University and the University of Southern Mississippi.
Dr. Kelly is a member of the Dallas Wind Symphony and has performed with the Plano Symphony, Northeast Texas Symphony, Mobile Symphony and Opera Orchestras, Gulf Coast Symphony, Mississippi Symphony, Meridian Symphony, Sinfonia Gulf Coast, Terre Haute Symphony and Brass Quintet, Philharmonia à Vent, Columbus Brass, The Prairie Ensemble, Champaign-Urbana (IL) Symphony and Brass Quintet, Baroque Artists of Champaign-Urbana, and Peoria Bach Festival Orchestra. Dr. Kelly was a featured presenter at the 2006 ITG Conference in Glassboro (NJ) and has presented solo recitals throughout the South and the Midwest. He is also a founding member of The Ambassador Brass Quintet, which has given concerts and workshops in the US, Thailand, Vietnam, and China. Dr. Kelly has presented recitals and masterclasses at the Campina Grande International Music Festival (Brazil) and performs regularly at the Classical Music Festival in Eisenstadt and Vienna, Austria. Since 2016 he has served as principal trumpet with the Colorado MahlerFest Orchestra in Boulder.
Dr. Kelly holds a BS in trumpet performance from Austin Peay State University in Clarksville, Tennessee, and a MM and DMA from the University of Illinois at Urbana-Champaign. His principal teachers include Michael Ewald, Ronnie Romm, Ray Sasaki, and Richard Steffen. He has been designated a Nationally Certified Teacher of Music (NCTM) by the Music Teachers National Association and is a member of International Trumpet Guild, Phi Mu Alpha Sinfonia, and the Honor Society of Phi Kappa Phi. Dr. Kelly is a Yamaha Performing Artist/Clinician.
A Conversation with Daniel
What draws you to your discipline?
"I enjoy working and performing with other musicians as well as helping my students achieve their career goals in music education or performance."
What has been your favorite course to teach?
"Applied lessons. The one-on-one aspect of music study is my favorite part of the job."
Tell us about a project you are currently working on or recently completed.
"I am working on a 'video album' of new works for trumpet and piano."
Educational Background
D.M.A., Performance Music, University of Illinois at Urbana-Champaign, 2004
M.Mus., Performance (Trumpet), University of Illinois at Urbana-Champaign, 2000
B.S., Performance (Trumpet), Austin Peay State University, 1995
Academic Positions
Professor, Applied Trumpet, Texas A&M University-Commerce, 2022-Present
Associate Professor, Applied Trumpet, Texas A&M University-Commerce, 2016-2022
Assistant Professor, Applied Trumpet, Texas A&M University-Commerce, 2010-2016
Assistant Professor, Trumpet, University of Southern Mississippi, 2006-2010
Adjunct Instructor, Trumpet, Indiana State University, 2004-2006
Teaching Assistant, Applied Trumpet, University of Illinois at Urbana-Champaign, 1996-1997
Research Interests
Trumpet Performance
Trumpet Pedagogy
Selected Solo Performances
Astraios Chamber Music, Frisco City Hall, 2019
Faculty Brass Quintet performance with TAMUC Chorale, TMEA Convention in San Antonio, Texas, 2019
Texas Trumpet Professors' Concert, San Antonio, Texas, 2018
Solo with Dr. Brian Zator, TAMUC, 2014
Campina Grande International Music Festival, Brazil, 2013
Selected Orchestra Performances
The Dallas Winds, Meyerson Center, 2019
Sulphur Springs Symphony, Civic Center, 2019
Classical Music Festival Orchestra, Vienna/Eisenstadt, Austria, 2018
My Fair Lady, Irving Arts Center, 2018
Colorado Mahler Fest, Boulder, CO, 2017
The Ambassador Brass, Touring in China, 2011
Featured Courses
Professional Organizations
International Trumpet Guild
Phi Mu Alpha Sinfonia (Honorary)
Phi Kappa Phi Honor Society